New Orleans's Krewe of Zulu and Cultural Subversion at Mardi Gras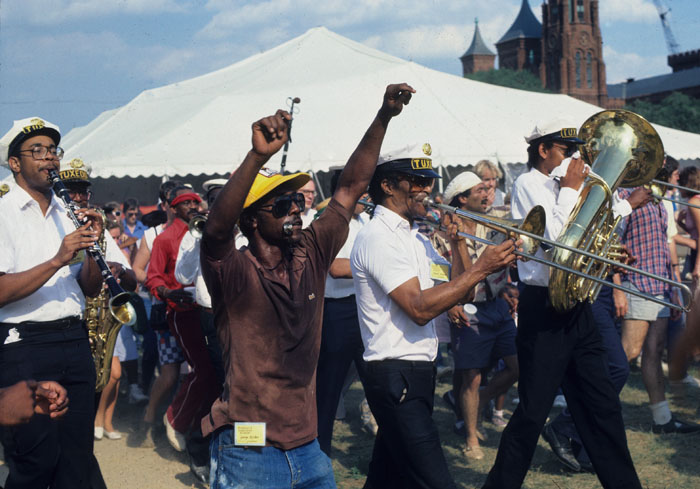 New Orleans is a city famous for its food, music, and culture, with a history and ongoing undercurrents of complex community identities and racial dynamics. Every Mardi Gras in New Orleans for the past 100 years, the Krewe of Zulu, comprised mainly of African Americans, parades through the streets in blackface, wearing grass skirts, and throwing coconuts.
How do the traditions of the Krewe of Zulu fit into the wider web of social tension and cultural understanding in New Orleans? Does this traditional spectacle have unique cultural meaning for the different communities in New Orleans? After all, the Zulu parade is one of the most famous and well attended in the city, along with Rex and Endymion parades. Thousands of people, of all cultures and races, come to watch the parade and try to catch one of the Zulu's famous coconuts.
The Krewe of Zulu began as a social aid organization, in a city where there was little support for African Americans in need. It has since grown in size and reputation, and sponsors a raucous Mardi Gras parade that marches every Fat Tuesday. Originally, Zulu walked through African-American neighborhoods only. During the civil rights movement, Zulu membership suffered and the Krewe came under attack for some of its practices, which were denounced for perpetuating racial stereotypes.
In the late 1960s, Zulu became the first African-American parade to march down St. Charles Avenue and Canal Street, traditionally reserved exclusively for white parades. According to the Krewe's website, "The Zulu Social Aid & Pleasure Club Inc., is the everyman club. The membership is composed of men from all walks of life–from laborers, City Mayor, City Councilmen, and State Legislators, to United States Congressman, educators, and men of other professions." The Krewe continues its role as social aid organization by doing charity work throughout the city and by supporting members of the community in need.
What is the cultural significance of the blackface, grass skirts, ragged clothes, lard-can crown, and coconuts associated with the African-American parade and its history? Are they empowering? Offensive? Some consider the traditions subversive, ironic, and satirical. In examining this question, it is helpful to look at the social significance of Mardi Gras and Carnival.
According to historian Richard Wunderli, a specialist on medieval Europe, "the greatest folk festival was Carnival, that exuberant, enchanted time when common folk ritually acted out fantasy justice." A recurring Carnival theme throughout history and across cultures is the reversal of traditional societal roles. During the "enchanted time" of Carnival, social rules became flexible, even inverted; commoners could ritually lampoon and impersonate those in power.
Is the Krewe of Zulu's blackface and grass skirts part of this subversive Carnival tradition? Maybe these costumes were meant to lampoon the wealthy white big shots who paraded around on Mardi Gras in expensive and extravagant costumes. Did the Krewe of Zulu attempt to ridicule the demeaning portrayal of their African-American neighbors by poking fun at the minstrel stereotype?
The Krewe spokesman, Alex Raphael, said in response to attacks from the Black Power movement in 1973 that, "Carnival is a time for make believe," perhaps echoing Wunderli's characterization of Carnival. Maybe the Krewe of Zulu satirized powerful, white New Orleanians and their prejudiced stereotypes during the one time of year where social roles were flexible.
While it is difficult to define the social significance behind the traditional outfits of the Krewe of Zulu parade, thousands of people from all over the world turn out each Mardi Gras to catch a much-sought after coconut and see the Zulu Social Aid & Pleasure Club march down St. Charles Avenue.
See photos below showing Mardi Gras activities presented at the 1985 Smithsonian Folklife Festival's Louisiana program.
James Mayer is an intern at the Smithsonian Center for Folklife and Cultural Heritage, and his family hails from New Orleans, Louisiana. He was a Fulbright Fellow in Turkey for the 2011-2012 academic year and is a graduate of Macalester College, where he studied History and Classics.
References
"About Us." Zulu Social Aid & Pleasure Club. Accessed February 15, 2013.
Becknell, Clarence A., Thomas Price, and Don Short, "History Of the Zulu Social Aid & Pleasure Club." Zulu Social Aid & Pleasure Club. Accessed February 15, 2013.
Richard M Wunderli. Peasant Fires: The Drummer of Niklashausen. Bloomington: Indiana University Press, 1992.
Wayne Curtis, "Zulu Krewe at 100: Still Marching to Its Own Beat," New York Times, 13 February 2009, D1.