In Tribute to Dr. Olive Lewin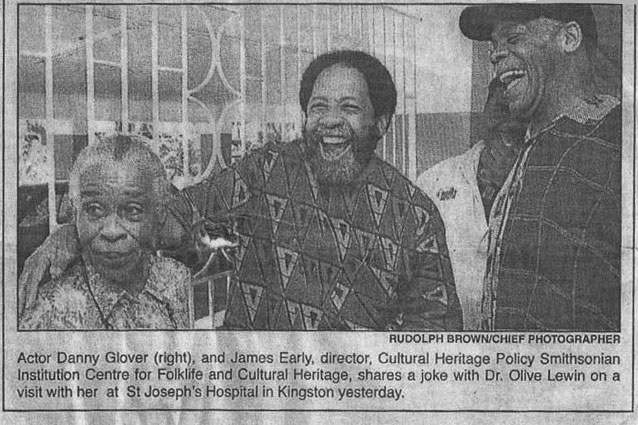 "They are falling all around me, the strongest leaves of my tree. Every paper brings the news that the teachers of my sound are moving on."
—Bernice Johnson Reagon, Give Your Hands to Struggle
Our Mother-Sister-colleague, Olive Lewin has transitioned to the Ancestors. We remember her reflective calm, her serious gaze, her steady pace, her deep commitment and respect for the profundity of expressive life imagined and made by ordinary people. She was always thinking, doing, moving to the pulse of her passion for the sustenance of affirming life-ways—not just performance arts—in Jamaican communities.
For Miss Olive, the joys of music, the beauty in craft, the poetry of speech, the style and meaning of dance were one with heartfelt concern and civic action in support of quality educational life, housing, and health in often isolated and down-and-out communities, who were nevertheless rich in culture. She told me on a visit to her home that she learned from her parents to respect, applaud, encourage, promote, and advocate for the people who worked around their home. They informed her humanity, and she in turn committed to their children, learning and living their cultural legacies.
On learning of Olive's passing, Dr. Bernice Johnson Reagon, former Center for Folklife Festival researcher-curator and director emeritus of the program in Black American culture at the Smithsonian National Museum of American History, and who worked with Olive during the pioneering development of the Smithsonian African Diaspora Folklife Festival (1973-1976), commented:
Olive Lewin understood the importance of supporting those within her culture who were carriers of older traditions. She dedicated her life and energies to collecting, researching, at times performing, and lecturing on the foundational value of keeping before younger community members the importance of holding on and treasuring our cultural groundings.
Olive's work with the Center for Folklife extended beyond Folklife Festivals. Anthony Seeger, distinguished and emeritus professor of ethnomusicology, UCLA; founding director emeritus, Smithsonian Folkways Recordings; and former president and secretary general of the International Council for Traditional Music, recalls:
Olive took me under her wing because she knew my grandfather, Charles Seeger. She was always gracious and tough-minded. We worked on many projects together, and I was always grateful for her tact and honesty. Olive Lewin was, in addition to all of her other undertakings, a very active and important member of the International Folk Music Council (later renamed the International Council for Traditional Music, ICTM), an NGO then in formal consultative relations with UNESCO. She spoke in a quiet voice but had very powerful advice and thoughtful way of suggesting ways around interpersonal conflicts and other impediments.
Dr. Amy Horowitz, former acting director of Smithsonian Folkways Recordings, established a collegial and sisterhood relationship with Olive. She recalls :
[Olive] was a strong supporter of Roadwork [a non-profit women's cultural organization that served some twenty women artists from the 1970s till 1994] and other grassroots cultural efforts and was also a great supporter personally when I decided to return to school for a doctorate in folklore. I learned a lot from Olive about the intersections of folklore and politics—although this was not her scholarly area—she lived this through her many academic and political appointments. In all of this, she kept true to her commitment to the songs and stories of Jamaican communities.
I and my wife, Miriam, also grew close to Olive. When she invited me to write the introduction to her book Rock It Come Over (Barbados: University of the West Indies Press, 2000), I was indecisive (surprised, intimidated, and pleased). This book, based on decades of research, is an impressive study of Jamaican folk music from the early 1500s through the mid-1900s. I did accept her invitation and I wrote:
Although this book focuses largely on Olive Lewin's development as musician, teacher and cultural programmer, the underlying philosophy, values, concepts and methodologies extend well beyond an individual voice and profile. The content of this book is of critical importance in considering and figuring out the next phase that nations, especially developing nations, might formulate in development of cultural policies at the start of the twenty-first century.
I last visited Miss Olive in 2008 at St Joseph Hospital in Kingston, Jamaica. I was accompanying actor-activist Danny Glover to the premiere of his documentary co-production with Rita Marley Africa Unite: A Celebration of Bob Marley's 60th Birthday. Although her memory was failing, she greeted me with, "I know who you are, James Early from the Smithsonian Institution." She, Danny, and I had a joyous visit and invited the Jamaican Daily Gleaner newspaper to cover the visit as I enlisted Danny as an ally in efforts to influence the Jamaican government to take immediate steps to secure Olive's life work. Danny and I discussed with the prime minister and the minister of culture the importance of ensuring care of Olive's papers, and I subsequently wrote a formal letter of encouragement from the Smithsonian Center for Folklife and Cultural Heritage to the Jamaican government to work with Olive's family and cultural institutions to ensure preservation of Olive's and Jamaica's cultural heritage legacies.
On April 16, 2013, I called Olive's daughter in Jamaica, Johanna Lewin, to share condolences and our happy memories of collegiality and friendship with the gracious, stately, committed Miss Olive. On the passing of her mother Johanna commented to the Jamaican media:
I will remember her dignified struggle to breathe in the last few weeks of her life. She maintained her dignity throughout . . . she was a hard-working and dedicated woman who was so much in love with the people, the music and culture . . . She dedicated her life to that.
We too will remember!
James Counts Early is director of cultural heritage policy at the Smithsonian Center for Folklife and Cultural Heritage.