Hungarian Recipe: Vanilla Wreaths with Apricot Jam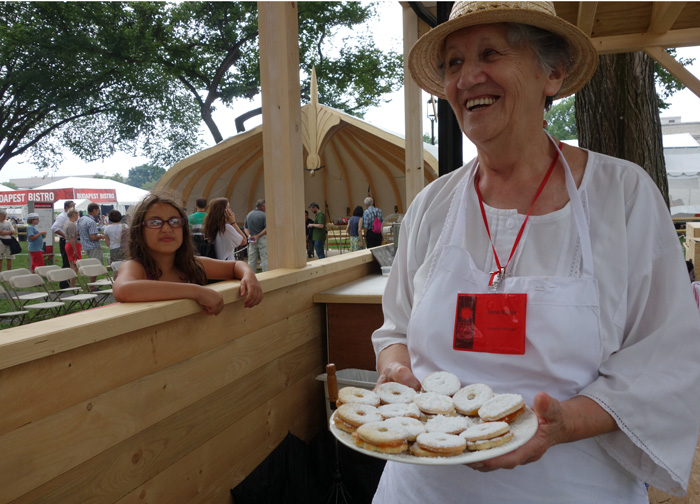 Almost every Hungarian grandmother seems to have a brittle, hand-written note safely stored between pages of her cookbook that holds the recipe for this beloved comfort food, the Vanilla Wreath cookie. It is a favorite snack to prepare when grandchildren are visiting or for family gatherings. The recipe is relatively simple and the thin dough stays flaky and fresh for up to a week. The cookie is sometimes prepared with an egg white foam or ground walnuts. The most popular version, however, involves home-made apricot, peach or plum jam made of only four ingredients: ripe fruit, sugar, heat and plenty of time. This recipe does not involve any unnatural preservatives and the flavor is thus much bolder than those of store-bought jams. The cookies are served dusted with vanilla powdered sugar, for an extra touch of floral sweetness.
Hungarian Vanilla Wreaths with Apricot Jam
Recipe by: Ilona Kollár
Apricot Jam
Ingredients
3 lb apricots
2 ¼ lb sugar
(3-5 8 oz. mason jars with lids)
Preparation
Wash the apricots and put them in a pot of simmering water for 1-2 minutes
Take the apricots out of the water and peel them, cut in half and remove the pits
Place the apricots in a pot and add sugar. Feel free to use more sugar if the fruit is not ripe.
Cook the apricots stirring frequently over medium heat until they thicken to a preserve consistency. (This will take over an hour)
Using a hand blender, puree the fruit if you wish it to be a jam consistency.
Scoop the fruit into sterile mason jars. Make sure the jars are cleaned and completely dry before adding the fruit. When adding the fruit, shake the jar a bit to make sure that the filling is densely packed with as few air bubbles as possible.
Stretch a piece of plastic wrap tightly over the mouth of the jar and secure it with a rubber band before adding the lid of the jar.
Wrap each one tightly with newspaper or paper towels, place the mason jars close together and cover together with tea cloths or dish towels.
Cover until the jam cools down completely.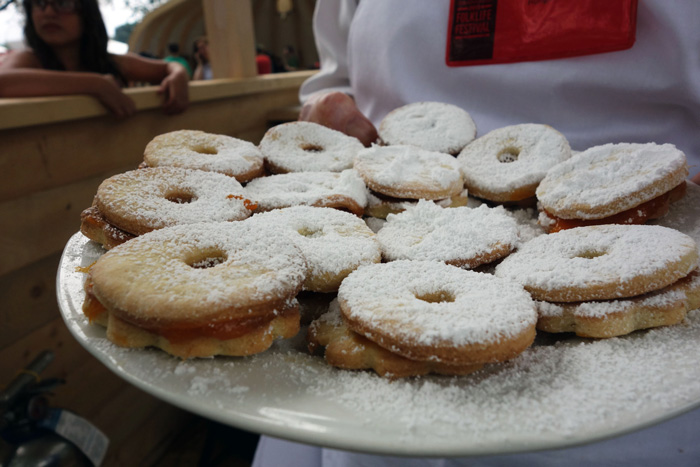 Vanilla Wreaths
Ingredients
8 oz. All Purpose flour
½ lb unsalted butter or lard (traditional)
7 oz powdered sugar
3 lemons, zested and juiced
1 tsp. baking powder
3 egg yolks
Pinch of salt
3 oz. sour cream
2 tbsp. vanilla sugar
Preparation
Preheat the oven to 350º F.
In a large bowl, mix the flour, baking powder and a pinch of salt.
Mix in the juice and rind of one lemon and the softened butter. (Traditionally lard is used instead of butter to achieve a flakier consistency of the cookie)
Mix together to a crumbly consistency.
Next add the powdered sugar, the remaining lemon rind and juice and the egg yolks and knead until the dough reaches a smooth consistency.
If the dough does not form easily, add small amounts of sour cream until it does.
On a floured board, roll out the dough to about ¼ inch thickness.
Using 2 cookie cutter shapes, of approximately 2 in., one solid and one with a scalloped edge and a hole in the middle (the wreath) cut equal numbers of each.
Place them on a baking sheet lined with parchment paper and bake for 8-10 minutes until lightly browned on the bottom.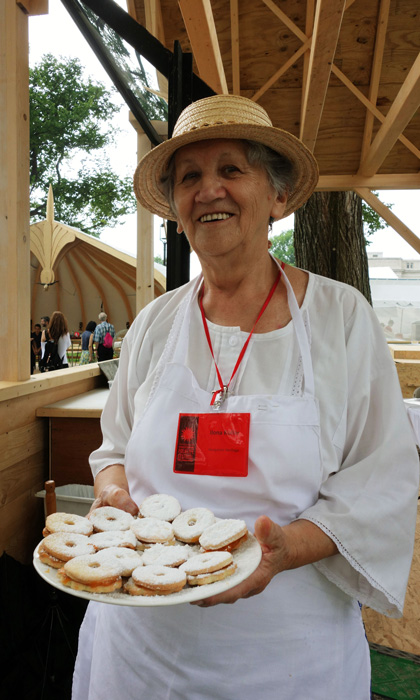 When done, set aside to cool.
After the cookies cool, make a sandwich by spreading some apricot jam on the solid half, and top with the wreath side.
Sprinkle the finished cookie with powdered sugar. (For an authentic flavor, try Dr. Oetker Vanilla Sugar)
Lili Kocsis is the Participant Assistant for the 2013 Hungarian Heritage Festival program. She graduated from Harvard University in 2011 with a B.A. in linguistics. She dedicates her spare time to purposeful travel, food photography, and writing about regional cuisine.