Hungarian Recipe: Tyúkhúsleves májgombóccal / Chicken Soup with Liver Dumplings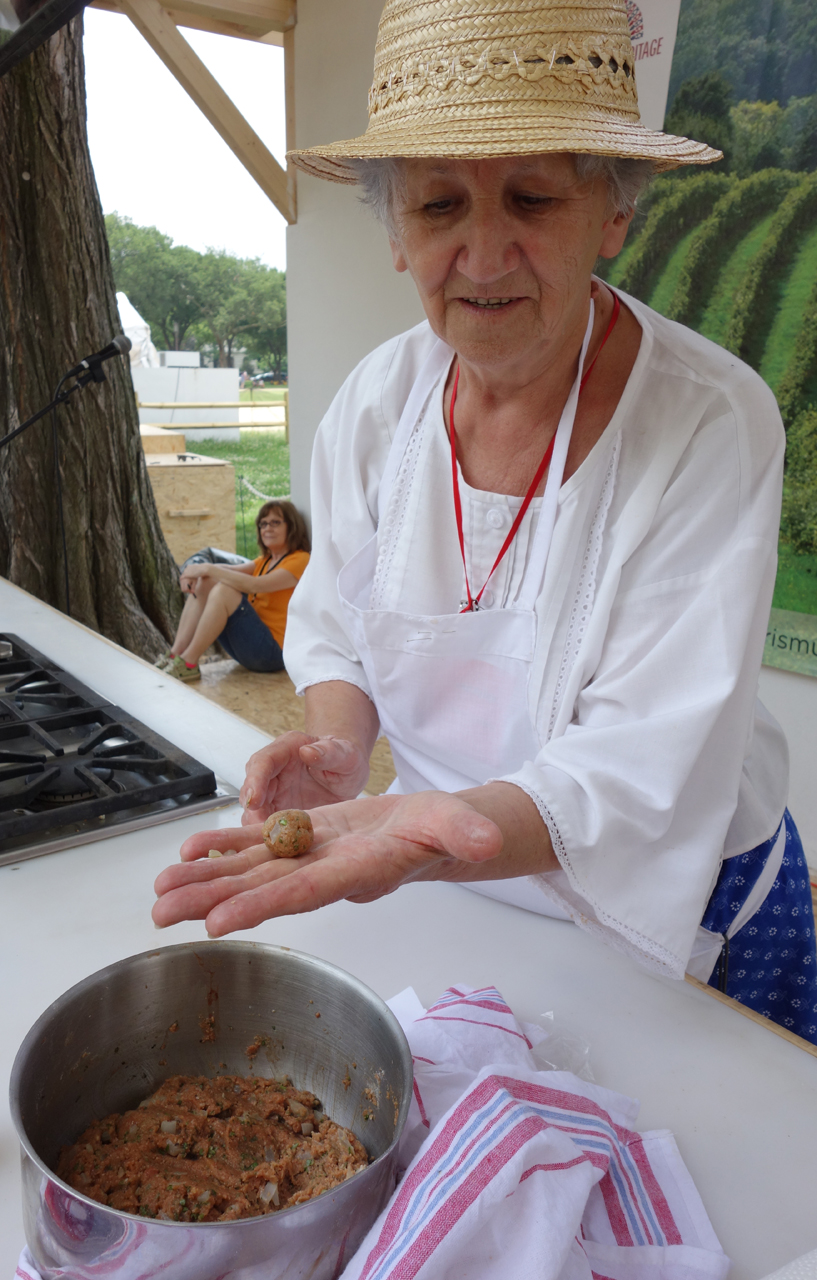 Tyúkhúsleves májgombóccal (Chicken Soup with Liver Dumplings) is a dish traditionally prepared at weddings and other celebrations in the Bácska region of Hungary. The broth is truly the most important part of this soup – the longer the chicken and vegetables boil in the water, the more flavor the broth will have. The broth can also be great for those suffering from a cold—it's comforting, warm, and full of nutrients. Liver dumplings is a traditional addition to the soup in Bácska, while in other parts of the country the same broth is prepared with csigatésztavery—short, tubular and hollow Hungarian egg noodles, with a winding ridge spiralling up the sides.
Tyúkhúsleves májgombóccal/Chicken Soup with Liver Dumplings
Recipe by: Ilona Kollár
Soup Broth:
Ingredients
4 lb Stewing Chicken
1 bunch of parsley (2 oz)
1 potato
2 carrots
2 parsnips
1 bulb of celeriac
1 yellow onion
1-2 cloves of garlic
5-6 whole black peppercorns
1 whole hot chili pepper (California chili peppers work well)
1 tsp salt
Preparation
Quarter the chicken.
Place the chicken into a pot of 2-3 quarts of cold water and set the water to medium heat.
Chop the carrots and parsnips in half lengthwise and then in half again. Add them to water.
Add one bulb of celeriac, one potato, one whole yellow onion and a bunch of parsley.
Season with 1 tsp of ground black pepper, 1 whole dried hot pepper, and a pinch of salt
Cook on medium heat for 2-3 hours with the lid on.
Liver Dumplings:
Ingredients
2 medium sized chicken livers
2 Tbsp of lard
Ground black pepper and salt
8 oz of breadcrumbs
salt, pepper
2 eggs
1 small yellow onion
Small bunch of parsley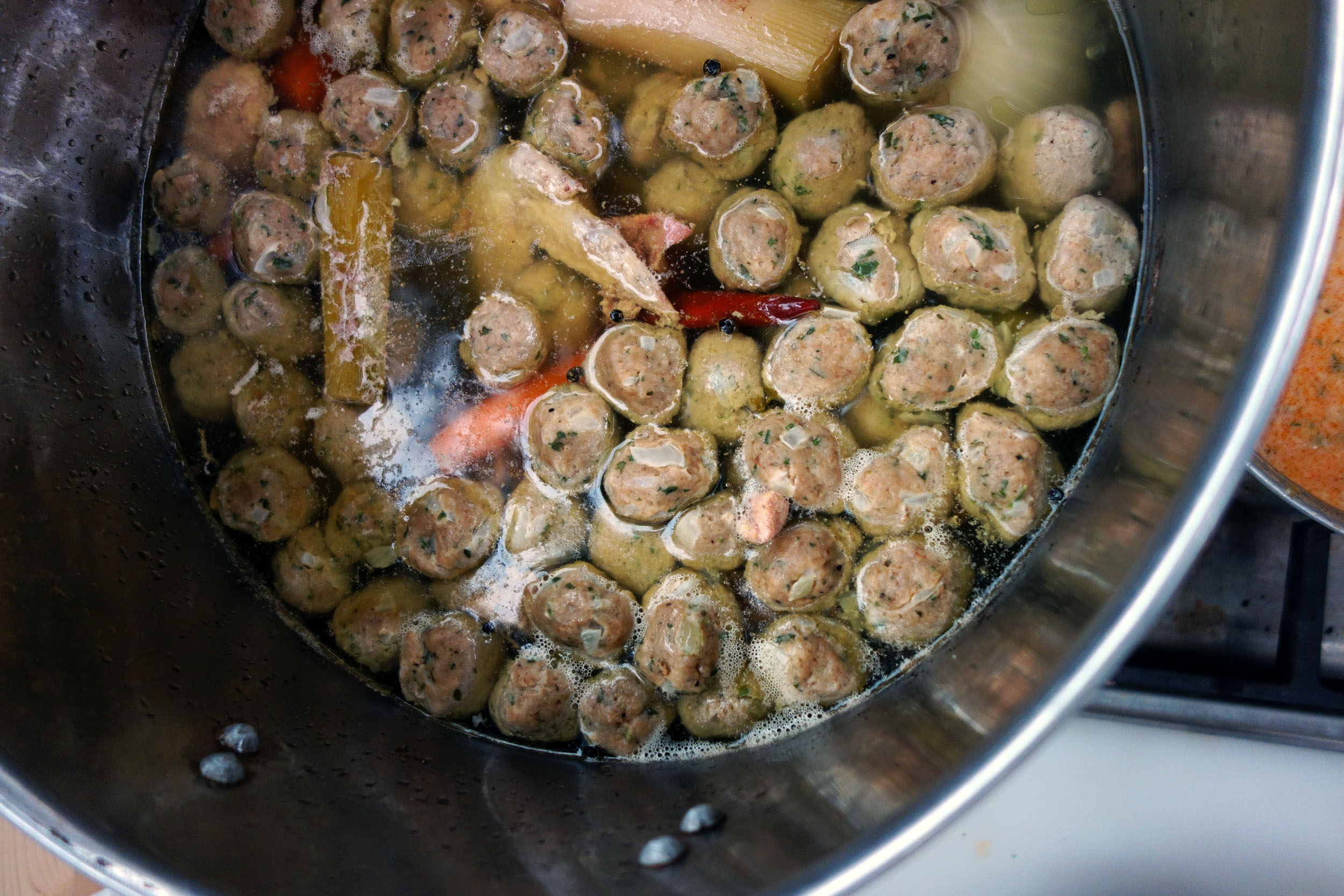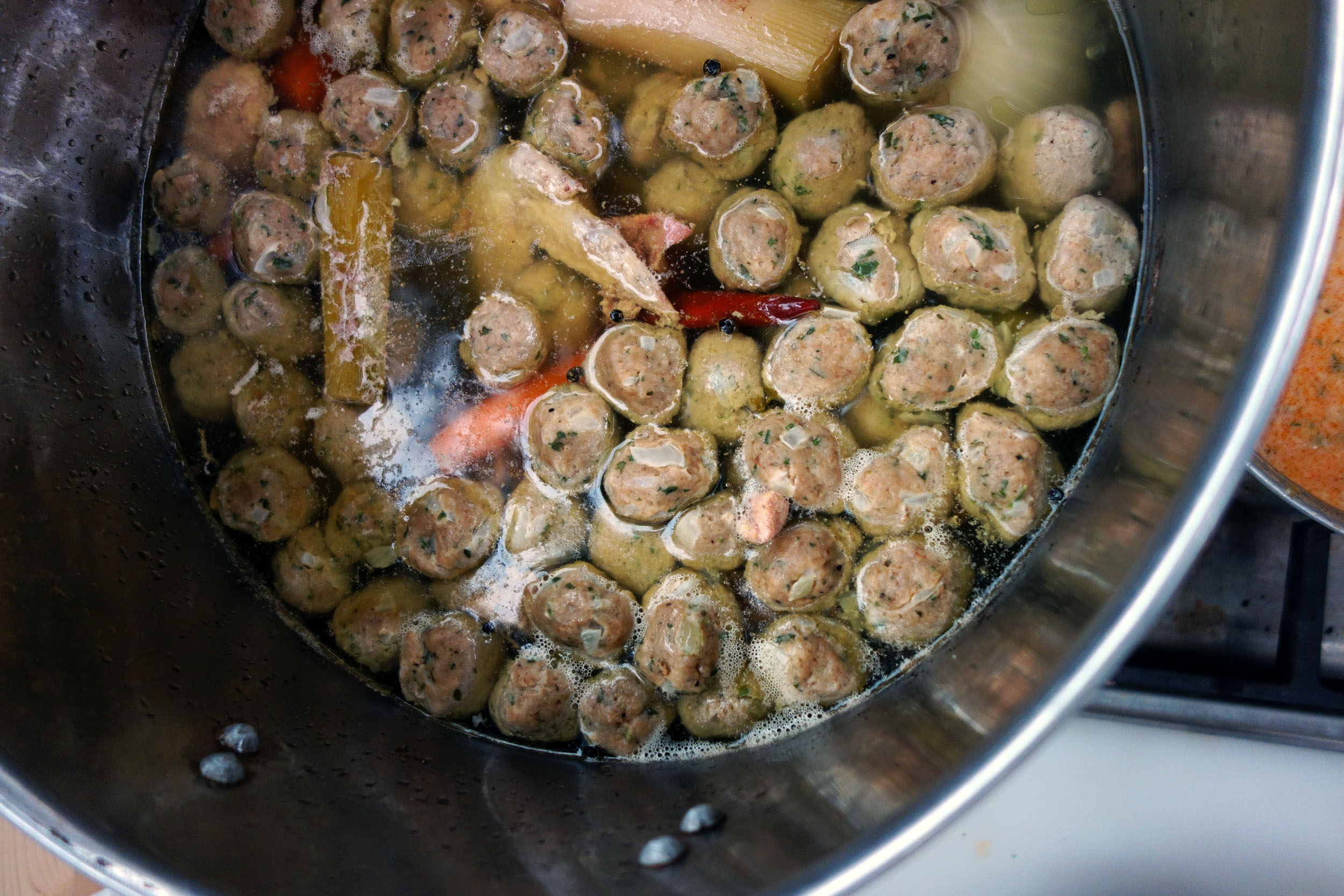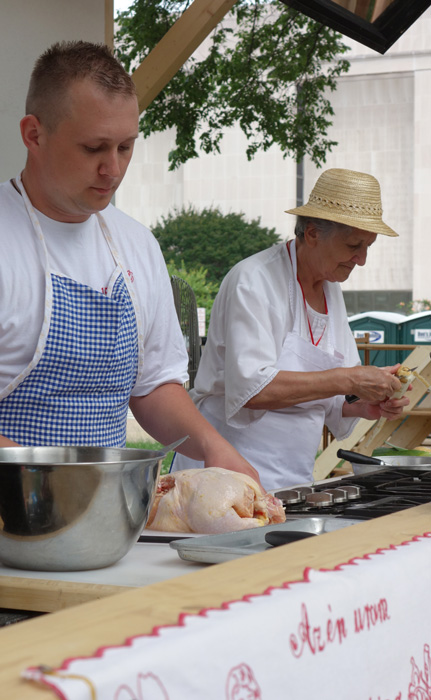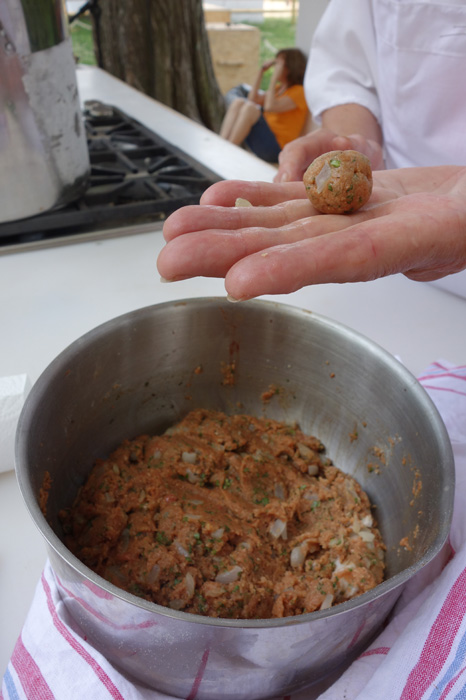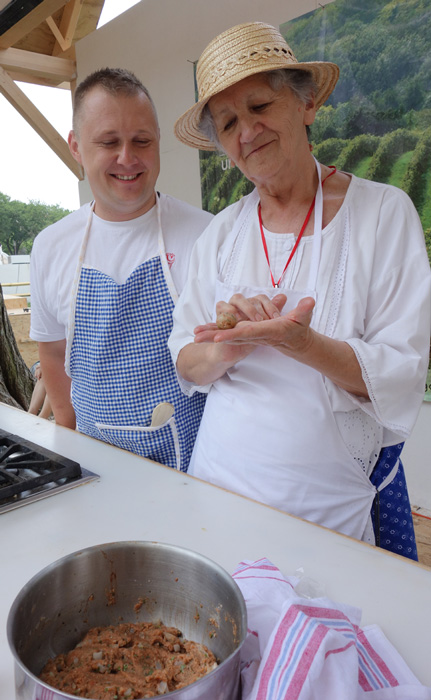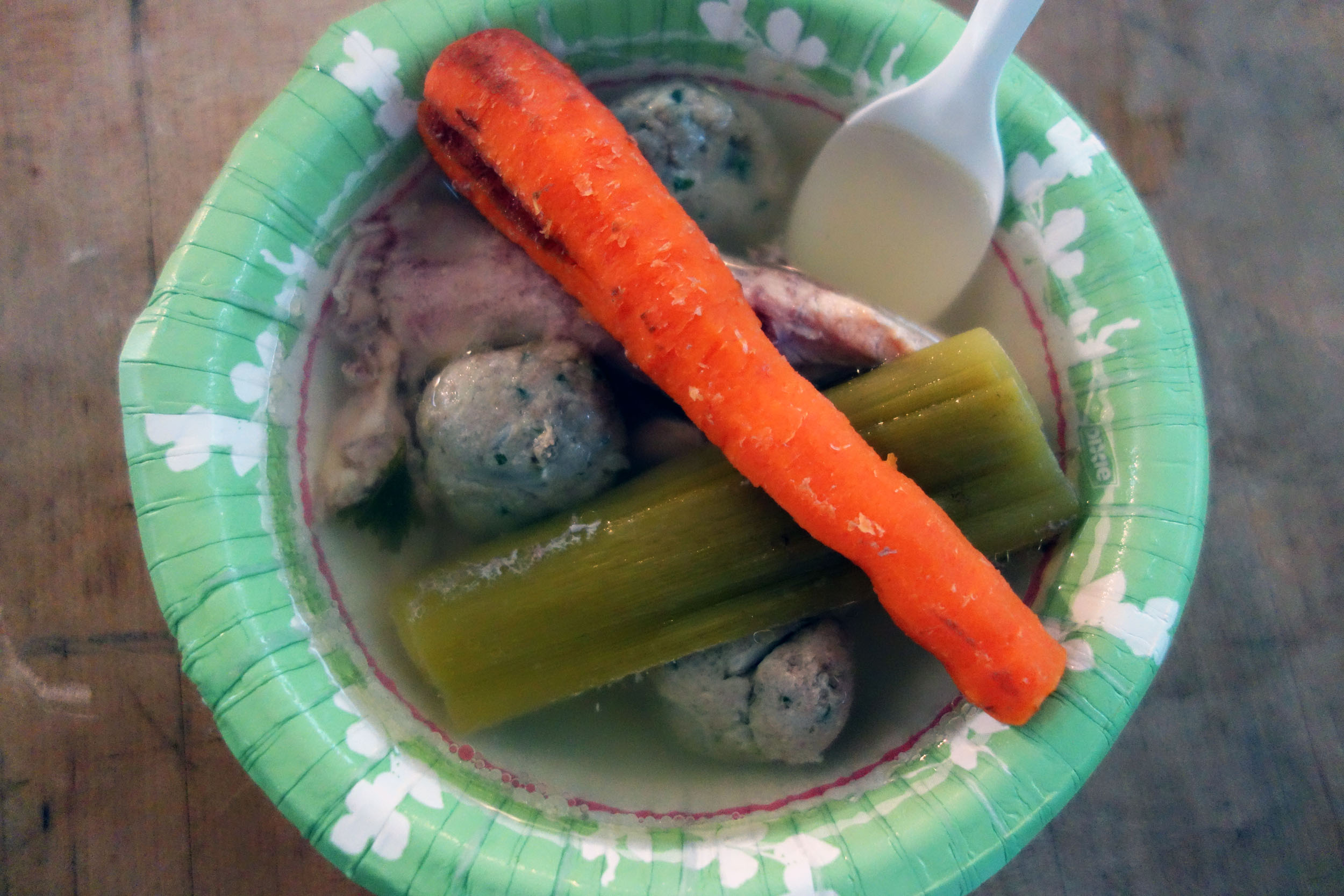 Preparation
With the edge of a knife scrape the liver until it becomes a paste.
On low heat sautee chopped yellow onion until it softens and becomes translucent.
Using your hands mix together the lard, the ground black pepper, salt, 2 eggs, softened onion, finely
chopped parsley and breadcrumbs. Combine with sauteed onions.
Allow the mixture to sit for 15-20 minutes.
Final steps
After 2-3 hours, strain the soup, reserving vegetables and chicken meat in a warm dish, keeping broth in a separate pot.
Bring broth to a boil.
Once the broth boils, start making small dumplings out of the liver paste, adding them one at a time to the broth. The dumplings should be about 1 inch in diameter.
Cook the liver dumplings in the soup until they float up to the top.
To serve, make sure each bowl has at least 2-3 dumplings in it. Serve the boiled vegetables and chicken in a separate dish so that each person can pick out whichever vegetables they like most. Ladle steaming broth over meat and vegetables. Enjoy!
Lili Kocsis is the Participant Assistant for the 2013 Hungarian Heritage Festival program. She graduated from Harvard University in 2011 with a B.A. in linguistics. She dedicates her spare time to purposeful travel, food photography, and writing about regional cuisine.