Hungarian Recipe: Krumpli Gombóc / Potato Dumpling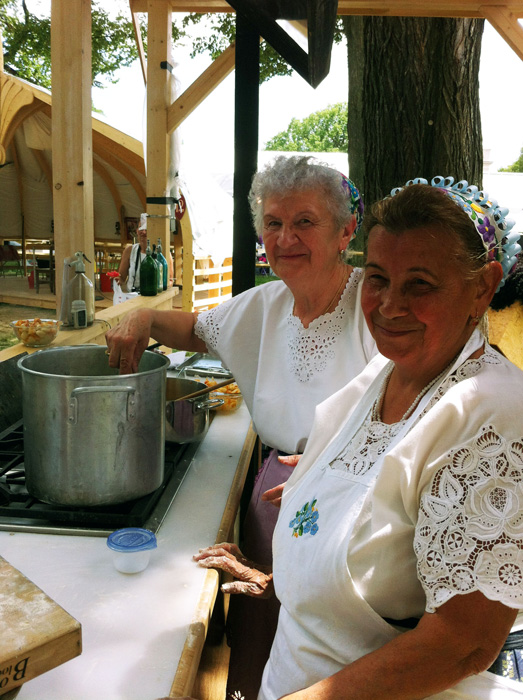 On the closing day of the 2013 Folklife Festival, Ilona Bolvári and Éva Bagó of the Kalocsa region of Hungary prepared one of the most iconic examples of Hungarian folk cuisine, the krumpli gombóc (potato dumpling). The recipe only involves a handful of inexpensive ingredients and can be stretched to feed many.
When prepared correctly, the texture of the dumpling is very satisfying: slippery on the outside, chewy and gummy on the inside. In this version, the dumplings are boiled and topped with a thick roux flavored with paprika, while another popular version, known as dödőlle is pan-fried and topped with curds of farmers' cheese and bits of bacon.
Ingredients
6 ½ lb potato
2 lb 6 oz flour
3 eggs
17 oz lard
5 tbsp salt
2 tbsp paprika
Preparation
Boil and salt water.
Peel potatoes and place them into boiling water. Cook the potatoes until they are soft enough to mash.
Mash potatoes and, while they are still warm, add eggs and salt.
Gradually stir in the flour, mixing constantly. Besides resulting in a delicious dish, this is also a great upper body workout, which explains why Hungarian grandmothers are all so strong!
When the dough forms roll it out into a cylinder about 1 inch in diameter.
Slice the dough, around 1 inch wide to form little dumplings.
Throw the dumplings into boiling water as they are sliced and cook them for 10-20 minutes until the dumplings float.
Meanwhile, in a separate saucepan, melt the lard (oil or butter can also be used, but lard will give it the most authentic flavor!).
Gradually stir in flour until a thick roux forms.
Taking the roux off the heat, add the sweet paprika powder. It is very important to have the mixture off the heat when the paprika is added; otherwise the powder will burn and give the roux a bitter flavor.
When dumplings float, cut one with a knife to test if it is cooked through. The dumpling should be firm in the center, with no liquid dripping out.
Place finished dumplings into a bowl of cold water to shock the cooking process and to wash off excess starch from the exterior of the dumplings.
Place the dumplings in a bowl and cover them with the paprika roux. Turn them until every dumpling is coated in the roux.
Serve with a dollop of sour cream and a sour pickle.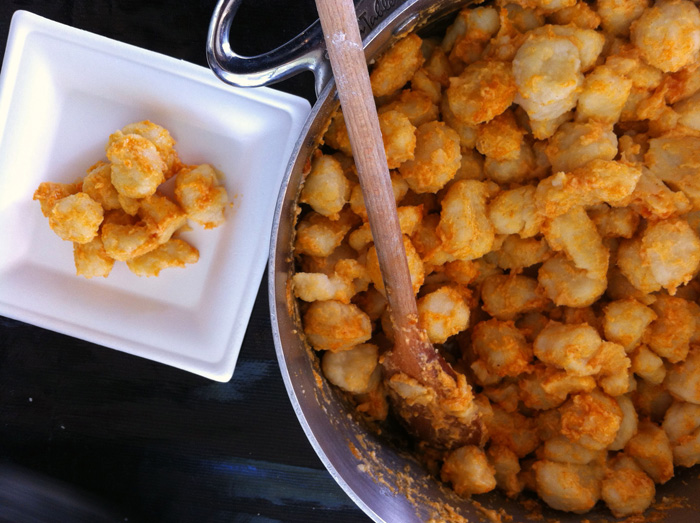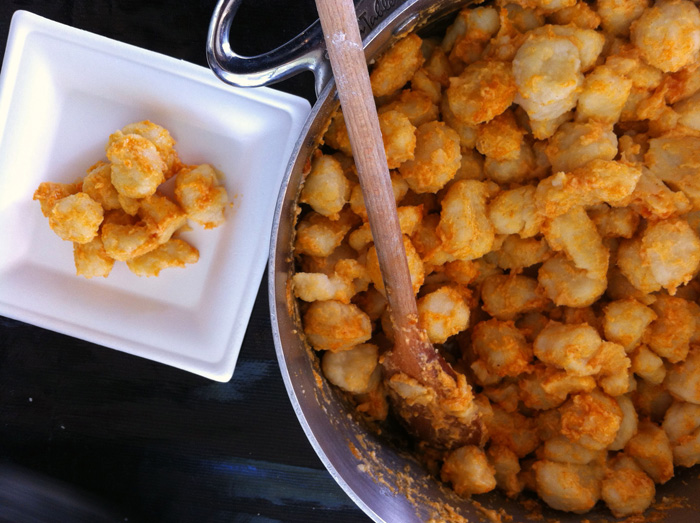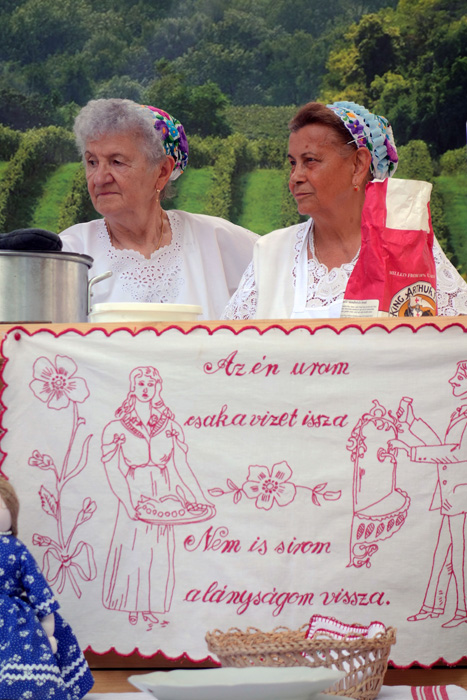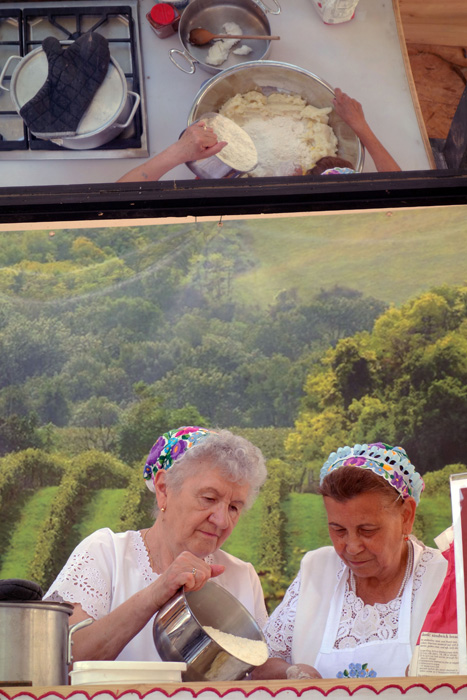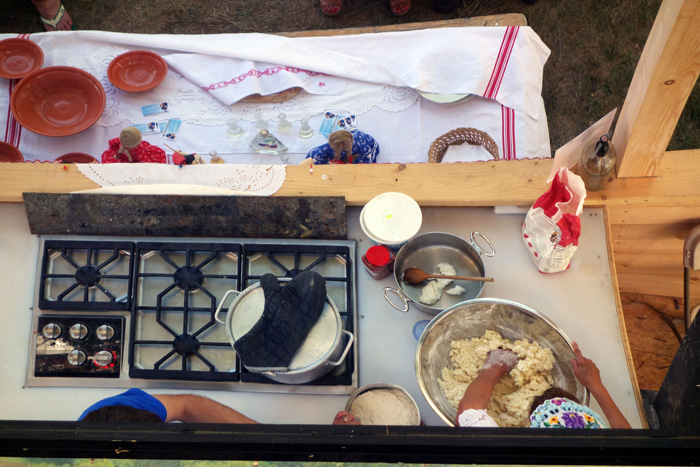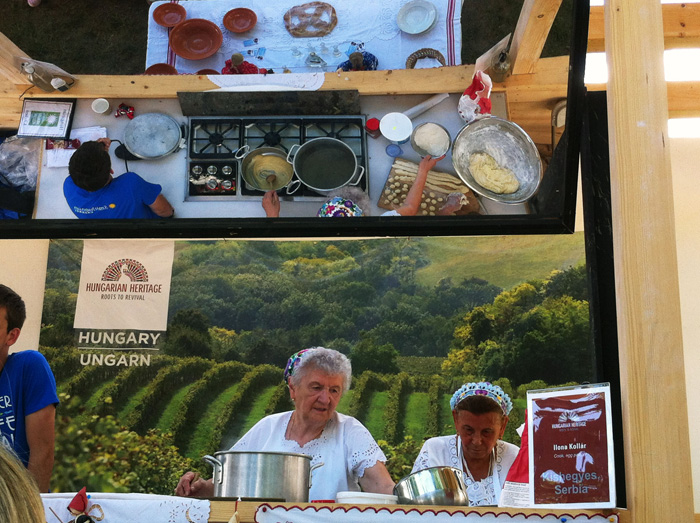 Lili Kocsis is the Participant Assistant for the 2013 Hungarian Heritage Festival program. She graduated from Harvard University in 2011 with a B.A. in linguistics. She dedicates her spare time to purposeful travel, food photography, and writing about regional cuisine.