Festival Accessibility Resources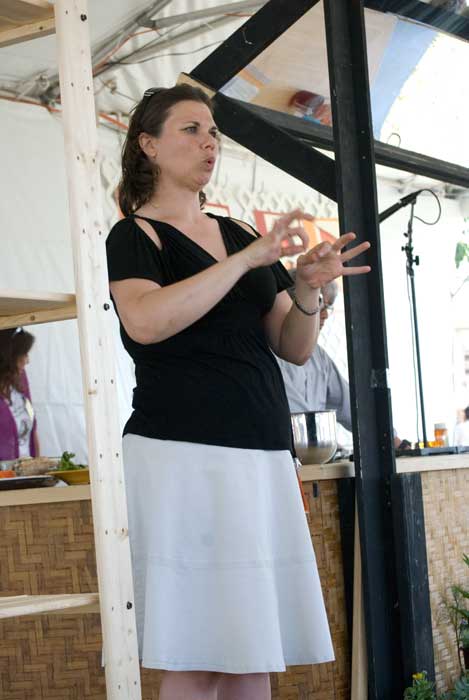 It is extremely important to us that the events and programs offered at the Folklife Festival are accessible to all visitors. Throughout the Festival, American Sign Language Interpreters and CART (Communication Access Real Time) captioning services will be available at selected stages. The dates and times of these events can be found on the online Festival schedule or in print form at the Volunteer tent or information booths.
The following eight stages will have induction loops installed. The central information booth across from the Volunteer tent will also be equipped with a countertop loop. Visitors with compatible hearing devices should turn them to the T position, and all visitors are welcome to borrow induction loop receivers from the volunteer at each stage.
Hungarian Heritage
Hungarian Kitchen
Heritage House
Danubia Stage
Hungarian Dance Barn
One World, Many Voices
Talk Story Stage
Song & Story Circle
Voices of the World Stage
The Will to Adorn
Verbal description and tactile tours of the three programs will be offered for visitors who are blind or have low vision on Saturday, June 29, at 1:00 p.m. and Friday, July 5, at 1:00 p.m. Reservations can be made by emailing the Smithsonian Accessibility Program at access@si.edu or by calling 202-633-2921.
The Festival will also open an hour early to host Morning at the Mall at 10:00 a.m. on Saturday, June 29, which will offer pre-visit materials for families with children with cognitive disabilities and sensory processing disabilities. Please make reservations with the Accessibility Program at the email address or phone number above.
Service animals are welcomed with water stations at the entrance to each program area.
A number of other accessibility resources will be available daily at the information booths and the Volunteer tent, which is located in the Festival Services area next to the Smithsonian Metro station. Large print copies of the Festival schedule and food concession menus will be available at both locations. An audio version of the Festival schedule is available online at si.edu/accessibility. Visit the Volunteer tent to request specific ASL interpreter services or borrow a wheelchair for the day. To request any other access services not mentioned above, please call (202) 633-2921 or email access@si.edu.
Laura Anthony is the accessibility coordinator for the 2013 Smithsonian Folklife Festival. She is a rising junior at the University of Pennsylvania studying linguistics.