A Day in the Life: Foodways Coordinator Arnie Malin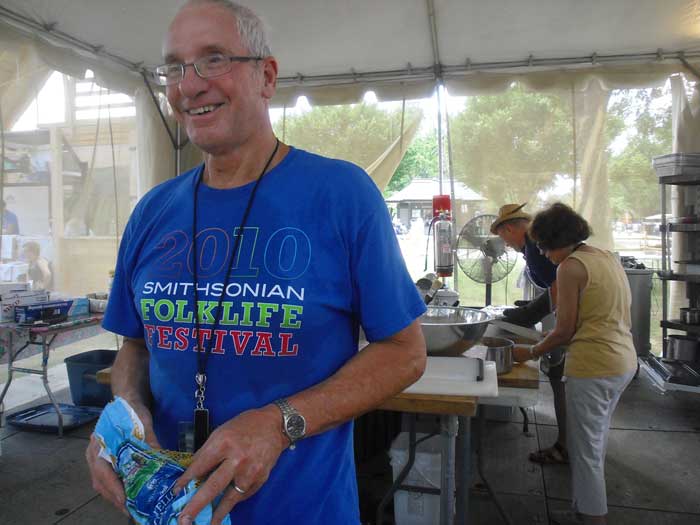 With one full day of the 2013 Folklife Festival remaining, foodways coordinator Arnie Malin took a break to talk about his work with the foodways portion of the Festival.
"Foodways" is a term used to describe intangible culture and heritage, and it is a very important element of the Smithsonian Folklife Festival. Through cooking demonstrations and dialogue with the audience, the Festival's foodways area allows for traditional cuisine and cooking methods to be shared with a broader audience.
The 2013 Folklife Festival Foodways demonstration area is located in the Hungarian Heritage program, and features native cooks from various regions of Hungary.
How would you describe your job as foodways coordinator?
It involves a lot of coordination. I make sure the cooks have all the ingredients they need, facilitate the relationships between the presenters and the cooks involved in the demonstrations, supervise the daily output of food—how it's stored, where it goes once it's cooked—and keep track of the cooking schedule.
Another big part of my role is searching for recipes. Each year of the Festival , there is at least one foodways exhibit, and I spend the weeks leading up to the Festival coordinating with the participants on what they'd like to cook. I think about what's most representative of the group coming in, and what works well as a demonstration. I have to think practically too sometimes, like what effect the conditions out on the Mall might have on the demonstrations.
A day in the life of the Festival foodways coordinator—what does it look like?
In the morning, I'm typically making sure the prep area for the cooking demonstrations is clean and orderly. I'm there during the day to address unexpected issues that come up. I go out every night and shop for the next day's perishable groceries.
How long have you been working as the foodways coordinator?
Three years. But I've been with the Festival for nine years, starting out as a volunteer with foodways.
What do you do besides the Festival?
I teach at Northern Virginia Community College. Before working with the Folklife Festival, I worked in the restaurant business for 40 years.
Do you have a philosophy for working on foodways at the Folklife Festival?
When I'm working with Festival participants, I hope to make sure their traditional cooking methods are communicated to the audience in their original form. At the same time, I want to engage the audience in a way that makes these traditions accessible to them, as well.
Hannah Crepps is a web production and social media intern with the Smithsonian Center for Folklife and Cultural Heritage. She graduated in May from St. John's College in Santa Fe, New Mexico, and hopes to pursue her interests in cultural heritage policy and international diplomacy.