From the Test Kitchen: Yellow Squash Pancakes with Tropical Salsa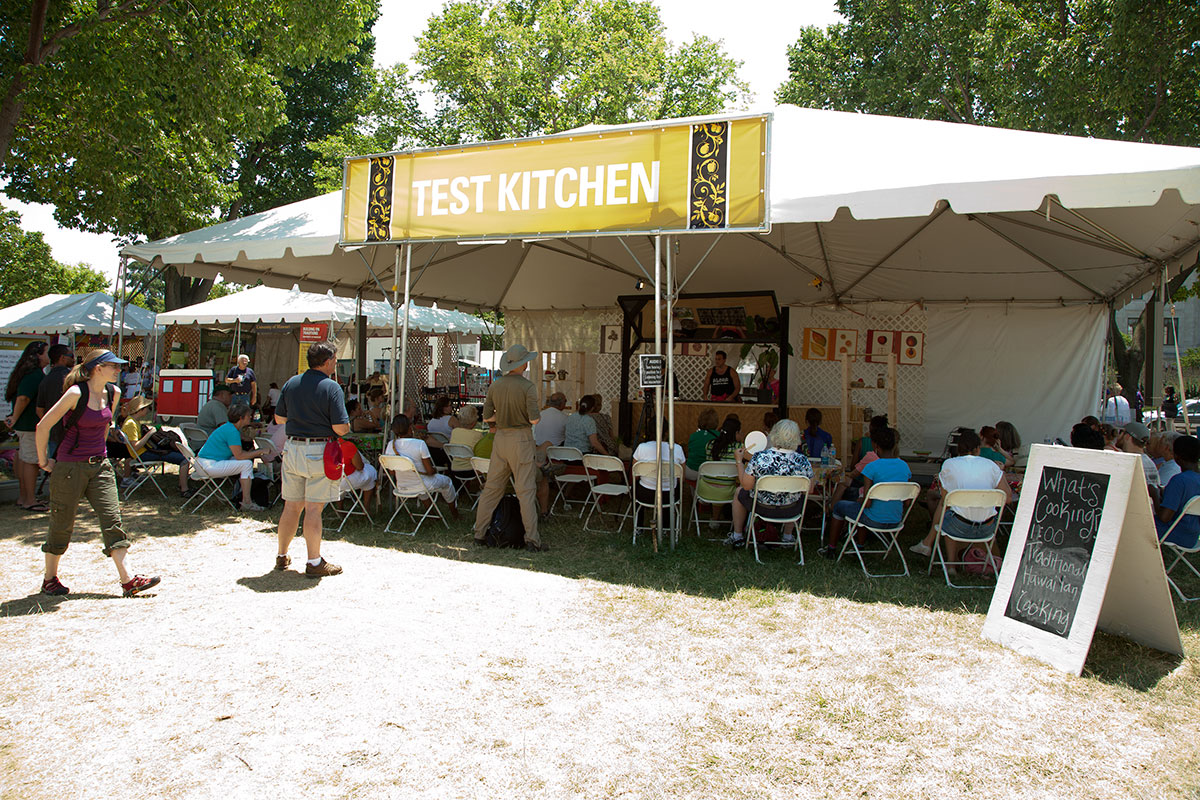 We will be posting a selected recipe from the Campus and Community Foodways Test Kitchen daily, along with some background information on the institutions, recipes, and the ingredients. Drop by the Test Kitchen, in the Campus and Community "Building on Tradition" area, to see live demonstrations and meet the chefs! Visit the Festival Schedule for a complete list of demonstrations.
Yellow Squash Pancakes with Tropical Salsa
USDA: The Kid Chef, "From the Farmer's Market"
As the Kid Chef for the United States Department of Agriculture, Lily does cooking demonstrations using foods that grow in the People's Garden and the USDA Farmers Market. Farmers markets are the heart and soul of many communities, supporting local neighborhoods and creating jobs. The People's Garden, similarly, is a collaborative effort of over 700 local and national organizations working together to establish community and school gardens across the country. Taking advantage of both community efforts, this recipe features fresh, seasonal, and local produce!
Ingredients
For the pancakes:
2 unpeeled russet potatoes
1 egg, lightly beaten
1 yellow squash (zucchini can be substituted if desired)
2 tablespoons flour
1/2 teaspoon salt
Freshly ground pepper
2 to 3 tablespoons vegetable oil
For the salsa:
1 small red onion, finely chopped
2 tablespoons lime juice
1 1/2 cups tomatoes, in 1/4-inch dice
1/3 cup chopped cilantro (stems are O.K. too)
3/4 cup chopped ripe mango, peach, nectarine, or pear, in 1/4-inch dice
Salt as needed
Method
For the pancakes:
Shred potatoes and squash separately. Spread the shredded potato on cloth towel and roll it with the ends folded over. Squeeze the potatoes tightly to remove moisture.
Transfer potatoes to a mixing bowl. Add squash, egg, flour, salt, and pepper, and mix well with a spoon.
Heat 2 to 3 tablespoons oil in large skillet over medium-high heat. When pan is sizzling hot, spoon about 3 tablespoons of the potato mixture into skillet, shaping carefully into tight, 3-inch circles. Repeat until skillet is filled, making sure pancakes are not touching.
Cook until golden on the bottom. Turn pancakes over. Press lightly with spatula and let cook until brown and crisp. When done, drain the pancakes and lay on a paper towel to remove the excess oil.
For the salsa:
Soak onion in the lime juice for 20 minutes while you prepare the other ingredients.
Combine the tomato, cilantro, and the fruit. When the onion is ready, stir it in, along with some salt. Add more lime juice if necessary.
Recipe courtesy of Lily Gravitz, the USDA Kid Chef