University Cheese Competition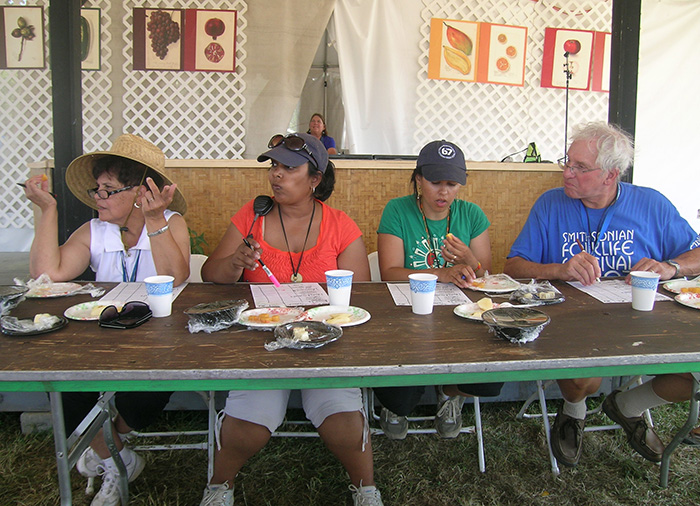 Friday, July 6, was a day filled with excitement and blood-thirsty competition. At the Test Kitchen, three of the Campus and Community universities entered their cheeses into a blind taste-test competition.
The Test Kitchen staff assembled an extremely well-qualified panel to judge the three cheeses, and the utmost care was taken to protect the identity of the judges and the participating universities in order to prevent any match-fixing. At 5 p.m., the competition began and the universities and judges were introduced to the public. Mississippi State University, Michigan State University, and Washington State University all brought their university-produced specialty cheddars to the competition.
After the competitors introduced their world-class cheddars, emcee and Campus and Community program curator Betty Belanus brought out the cheeses and the battle began. The tasting process adhered to professional standards; iced water and fresh apple slices were provided to cleanse the palate between each sampling. The judges unabashedly shared their impressions and expert opinions with the audience.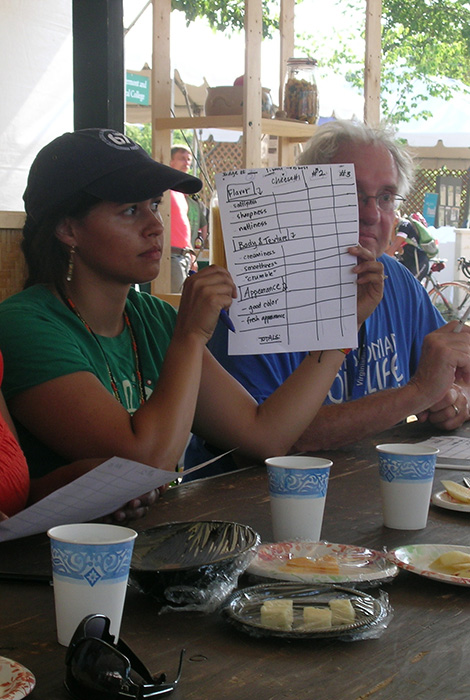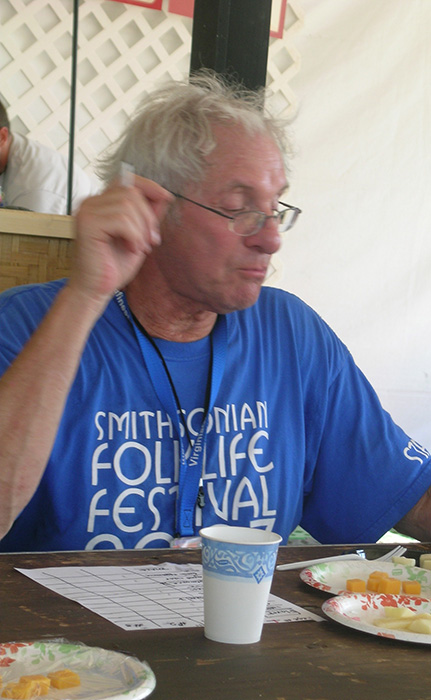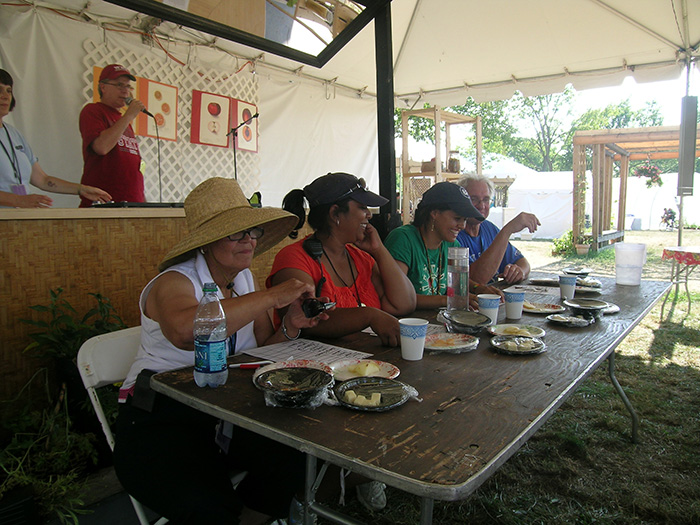 After tasting cheese number one (Washington State's Cougar Gold), judge Reshma Sinanan-Hill complemented the creamy texture and pure color of the cheddar. Judge Barbara Strickland remarked that she appreciated the sharpness and the bite of Washington State's cheddar. The cheeses were judged on criteria of appearance, texture, and taste; "crumbliness" was eliminated from the score-sheet due to inconsistencies related to the high temperature, as the mercury hovered around 100 degrees all day.
"My cheese was limp!" exclaimed Reshma, discussing the effects of the heat on the cheddars.
In the end, the score sheets were analyzed and emcee Betty returned to the stage to announce the results. Michigan State took third, and Mississippi State finished second. The winner of the 2012 Smithsonian Folklife Festival Cheese Off was Washington State's Cougar Gold cheddar, an award-winning cheese that also happens to come in a can.
Washington State representative Brian Clark sauntered to the stage to collect the prestigious award, and crowned himself "Big Cheese," in the tradition of Charlemagne and Napoleon. Clark attributed the victory to Washington's happy cows and the dedication of the Washington State team.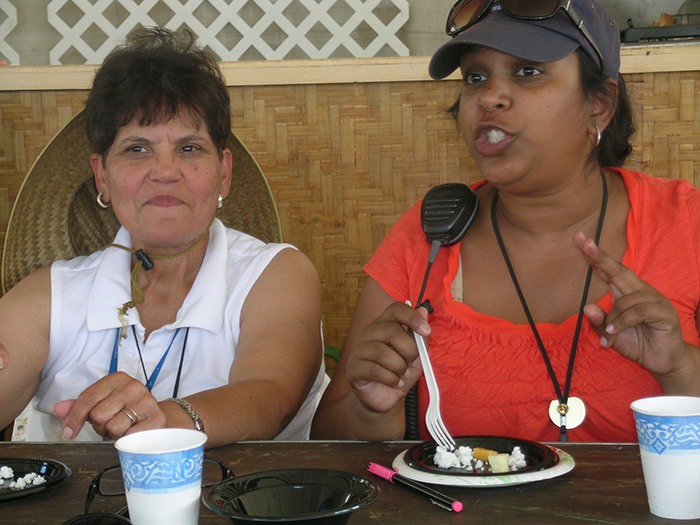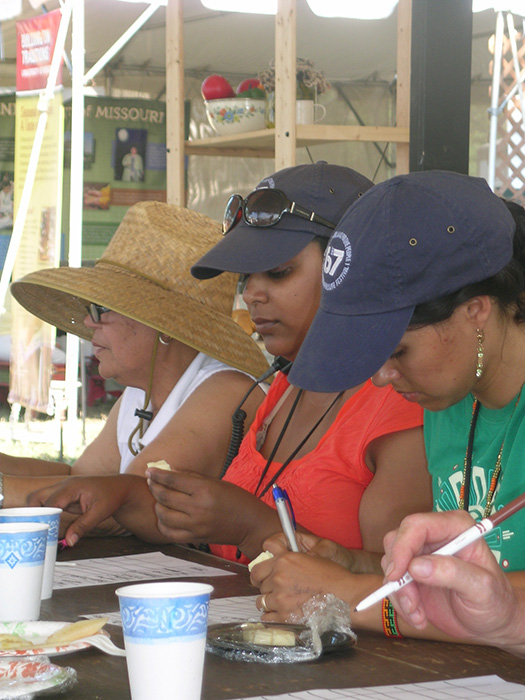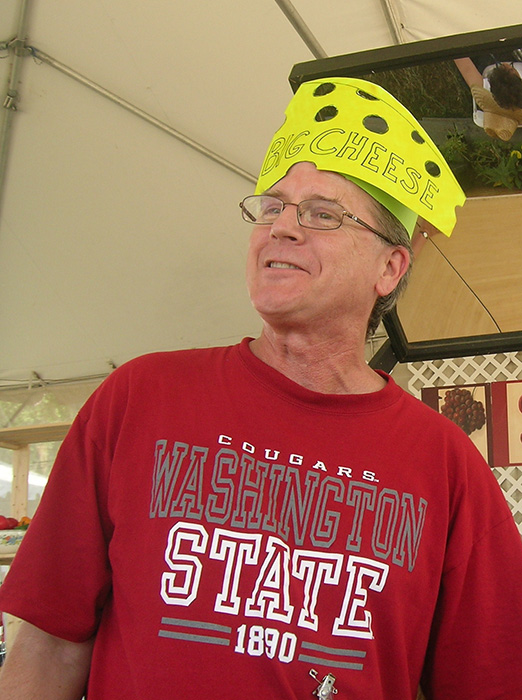 Judge Barbara closed the competition by commenting on the difficulty of judging the competition, "All the competitors should be commended for producing such delicious cheeses. They were all great. It was tough to pick only one winner."
Come back to the Foodways Test Kitchen on Sunday, July 8, for another Cheese Off.
You can find all three cheeses for sale online:
James Mayer is an intern at the Smithsonian Center for Folklife and Cultural Heritage. He recently graduated from Macalester College, where he studied history and classics.