From the Test Kitchen: Triple Berry Fruity French Toast
We will be posting a selected recipe from the Campus and Community Foodways Test Kitchen daily, along with some background information on the institutions, recipes, and the ingredients. Drop by the Test Kitchen, in the Campus and Community "Building on Tradition" area, to see live demonstrations and meet the chefs! Visit the Festival Schedule for a complete list of demonstrations.
Triple Berry Fruity French Toast
University of Missouri, "Seasonable and Simple"
As part of its ongoing drive to engage the wider community, the University of Missouri's Nutrition Extension educators at the University of Missouri provide information on healthy eating to more than 350,000 Missourians annually. Similarly, more than 75 percent of Missouri schoolchildren participate in nutrition and physical activity programming. This French toast recipe substitutes whole wheat for white bread and a vibrant, nutritious berry sauce for maple syrup, making it easy to follow the Nutrition Extension educators' motto: "Live Like Your Life Depends On It!"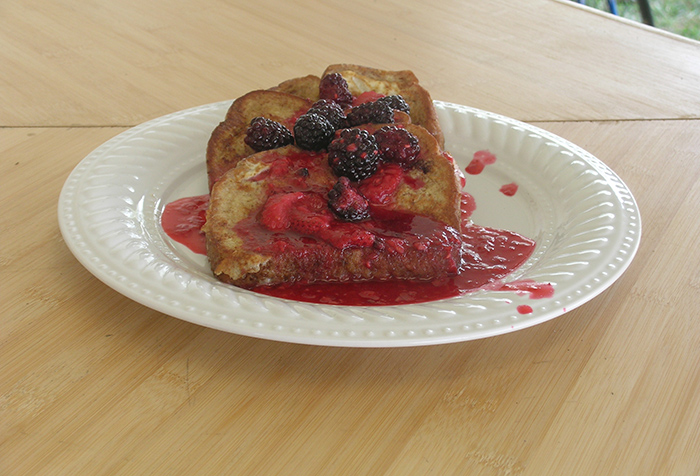 Ingredients:
1/2 cup blackberries
1/2 cup blueberries
1/2 cup raspberries
1/4 cup sugar
2 eggs, beaten
4 slices whole wheat bread
4 tablespoons milk
1/2 teaspoon ground cinnamon
4 teaspoons butter
Method
In a microwave-safe bowl, mix berries with sugar.
Cook for 2 minutes; stir, and cook for another 2 minutes.
In a shallow bowl, combine eggs, milk and cinnamon. Dip a slice of bread in the egg milk mixture until covered on both sides.
In a skillet or griddle over medium heat, melt 1 teaspoon of butter. With a fork, place the dipped bread in skillet and cook for 2 minutes until browned.
With a spatula, turn bread over and cook for 2 more minutes until browned. Repeat with other pieces of bread. Top each with berry sauce.
Recipe courtesy of the University of Missouri Extension Service