From the Test Kitchen: Tilapia Wraps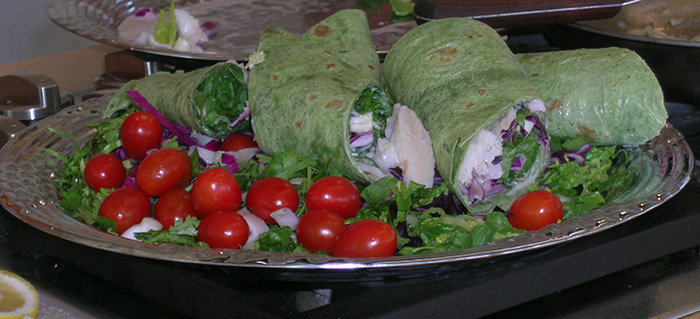 We will be posting a selected recipe from the Campus and Community Foodways Test Kitchen daily, along with some background information on the institutions, recipes, and the ingredients. Drop by the Test Kitchen, in the Campus and Community "Building on Tradition" area, to see live demonstrations and meet the chefs! Visit the Festival Schedule for a complete list of demonstrations.
Tilapia Wraps
University of Hawai'i, "Traditional Hawaiian Cooking"
The University of Hawai'i System is renowned for its excellence in the fields of astronomy, earth sciences, and marine biology; less well known is the crucial role it plays as an incubator and teaching resource in sustaining Hawai ian culture. Food is an important expression of culture all over the world, and it is one of many ways through which the University of Hawai'i maintains this role. This recipe is so simple that anyone can treat themselves to a taste of Hawaiian culture!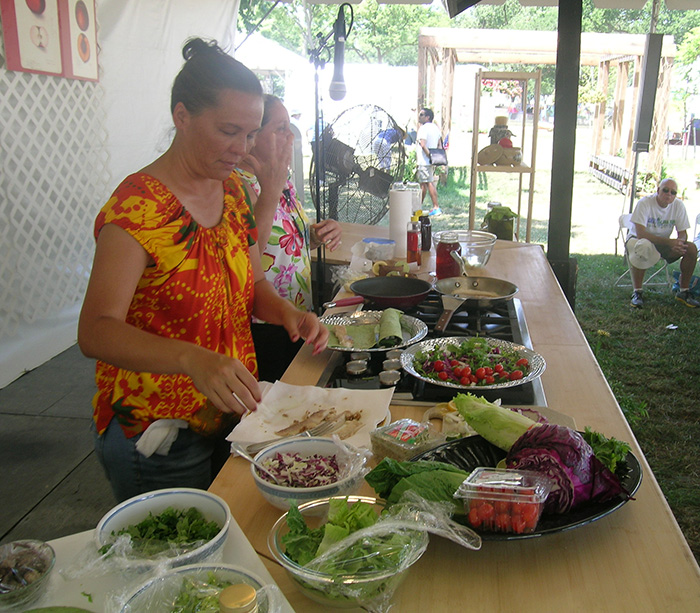 Ingredients:
2 tablespoons olive oil
4 tilapia fillets (or other fish fillets)
4 large tortillas (spinach or tomato-basil)
1 cup purple cabbage
1 cup Napa cabbage
4 leaves romaine lettuce
1/2 cup alfalfa sprouts
1/2 cup lettuce mix (mixed greens)
1 cup tomatoes (grape and/or roma)
1/4 cup Chinese parsley (cilantro)
1 cup mayonnaise
1 tablespoon sesame oil
1 tablespoon honey
salt, pepper, garlic salt
tofu, taro, or other additional filling (optional)
Method:
Heat the olive oil in a skillet, then fry the tilapia fillets until just done (it should be about 170 degrees).
Coarsely chop the purple and Napa cabbages, romaine, Chinese parsley, and tomatoes, then combine them in a bowl with the alfalfa sprouts and mixed greens.
Combine the mayonnaise, sesame oil and honey in small bowl and mix thoroughly, adding more or less oil and honey to taste. Season with salt, pepper, and garlic salt to taste.
Lay the tortilla on a cutting board and layer with fried tilapia and vegetables. Drizzle with honey-mayonnaise dressing.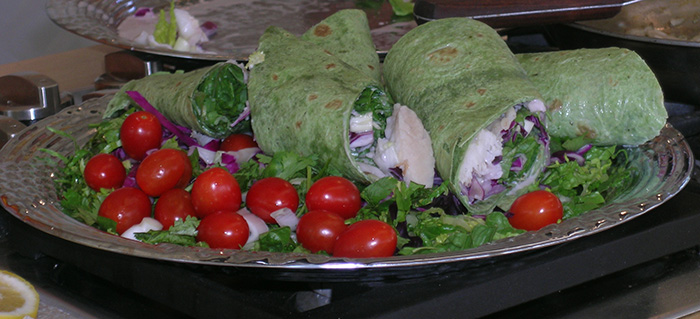 Recipe courtesy of and presented by Ilima Ho-Lastimosa, student of Hawaiian studies at the University of Hawai'i and program director of God's Country Waimanalo; Leinaala Bright, graduate student of Hawaiian studies and intern at the College of Tropical Agricultural and Human Resources; Dr. Carl Evensen, interim dean and associate director of the Cooperative Extension Service at the University of Hawai 'i at Manoa; and Ilima's father Kenneth Ho.