Through Positive Eyes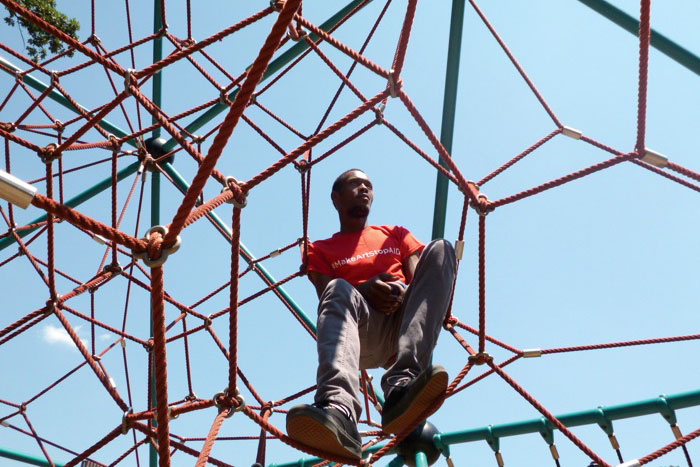 The photograph depicts a scene that could easily be ignored as mundane or ordinary. Through the image, we are invited to look out of a window onto a set of swings that are gently moving, although there is no indication of anyone who might have set them into motion.
The photographer behind this remarkable artwork is one of twelve participants who live locally in the District of Columbia, and are HIV-positive, united for a remarkable photo documentary project called Through Positive Eyes. Elisabeth Nails, co-producer of the project explained, "The project participant saw beauty in this, captured it, and showed us it was beautiful. It's an angelic moment…it's as if the swings are made of lace."
Through Positive Eyes is based on the belief that challenging stigma against people living with HIV/AIDS is the most effective method for combating the epidemic—and that art is a powerful way to do this. The project is in the process of creating an international album of personal photo essays created by people living with HIV/AIDS, drawn from ten-day workshops in major cities around the globe. The participants are chosen through collaborations with local organizations and, once selected, undergo intensive training designed for those with no previous experience with photography. Armed with new skills and techniques—as well as small, high-resolution digital cameras—they are then set loose to document their lives in any way they choose.
The most recent workshop is taking place right now at the Hirshhorn Museum ArtLab+, with exhibition and program components presented as part of the Creativity and Crisis program. Based on recent statistics from the Department of Health and Human Services, 1.2 million people in the U.S. are living with HIV/AIDS, and 1 in 5 are unaware of their diagnosis. Additionally, the southern states of the U.S. have some of the highest percentages of people who are HIV positive; sometimes as high as 14 to18 percent in certain populations. "Groups that were not historically affected in early years are getting it," says Elisabeth Nails. "It's across the board, affecting every group, class, and culture." In fact, a growing number of Americans being diagnosed as HIV positive today are heterosexual African American and Latina women, in the fifteen-to-twenty-five age bracket.
It also takes a tremendous amount of courage to allow the world to see life through the eyes of those infected with the HIV virus. That courage and vulnerability, emotions that all humans experience, is what tether the participants' photographs to its audiences. "Artists have this gift of being storytellers," says Nails. "They provide us with a human level of what it could be like to live with this virus."
Learn more about Through Positive Eyes this weekend in the Creativity and Crisis program area:
An exhibition of photographs from the South African Through Positive Eyes workshops are on display on the program site near the Healing Arts tent.
Photographs from the D.C. workshops, which have been taking place simultaneously with the Folklife Festival, will be displayed in the Creativity and Crisis program area on Saturday, July 7, 2012 all day. Each participant has selected two photographs, which best represent themselves, and are asking the public to help them choose their final "signature" image. Come out to the Festival site and vote for your favorites.
Self Expressions through Body Maps and Photography at the Giving Voice stage, 4:15 to 5:00 pm on Saturday, July 7, 2012.
A final culminating program for the workshop, with all of the Through Positive Eyes—Washington, D.C. staff and participants will be presented in the HirshhornMuseum's Ring Auditorium, 4 to 5:30 p.m. on Sunday, July 8, 2012. FREE and open to the public.
Patricia Wakida is a writer and historian based in Boyle Heights, a neighborhood of Los Angeles, California.