This Eyelash of a Moment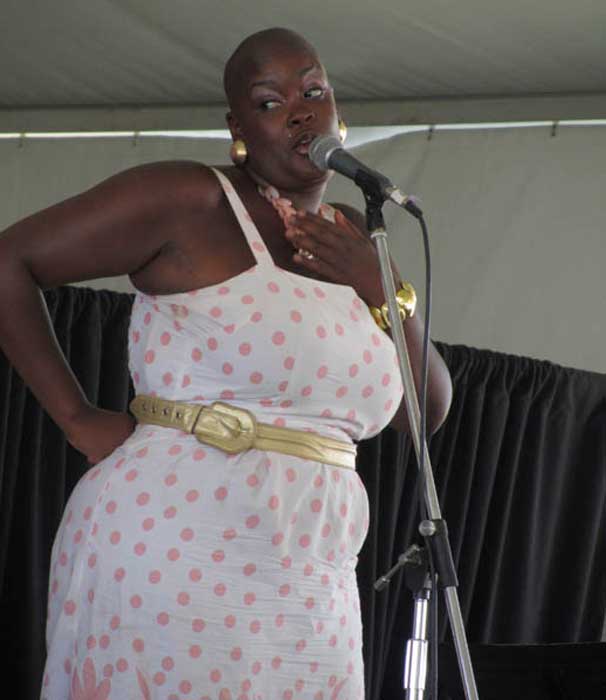 Standing tall in gold stacked sandals at the mic is Sonya Renee, formerly from the Black AIDS Institute, the nation's only HIV/AIDS think-tank focused exclusively on the HIV epidemic in Black communities. Even in 100-degree heat, she has the ability to fill a circus-sized open tent with an enormous presence, and to electrify the audience with her self-awareness—she is bald and her beauty is fierce.
Renee is one of five District of Columbia spoken word poets who do triple duty as HIV/AIDS educators, activists, and artists in the community, and they are on heavy rotation at the Creativity and Crisis Red Hot stage. The company she keeps at the Festival is equally inspiring: Mary Bowman, JT Bullock, Regie Cabico, Dwayne Lawson-Brown, artists who stand up for what they believe in and write from the breath.
The stories they channel teach us about grief and gratitude, and the remorse and relief that comes directly from personal experiences. Stories of mothers who crash too early, or a former sexworker client whose redemption after his death comes in the form of a brag: for handing out free condoms and perhaps preventing just one more HIV/AIDS test from reading positive. "Art is a universal medium, and any shared language is a phenomenal tool to helping us live unapologetically," said Renee. Like many of the poets performing, she reminded the audience of the fragility and value of each waking day, and the power of poetry for people to gather, for spoken word to be heard and passed on, even if only in this "eyelash of a moment."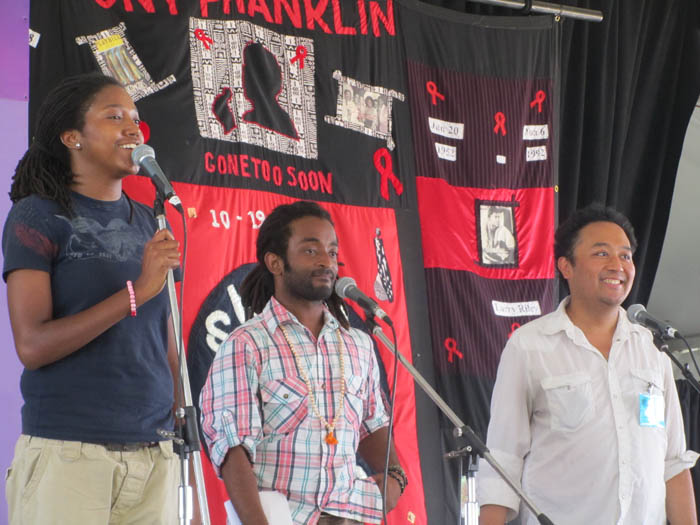 Pilipino artist Regie Cabico feels that spoken word is an unprecedented America art form, much like jazz. "Its also political theater, where the poet performs three minute scenes, but without music, without scenery, without props." Reflecting on the presence of poets and creativity in response to HIV/AIDS, he said "I was twelve during the crisis/epidemic, and as a result growing up, I didn't have any mentors—they had all died. I am just realizing what I've been robbed of twenty-five years later as a forty-two year old."
According to poet Dwayne Lawson-Brown, "We are the 'folk' in folklife. We document life, which becomes a community thing we are all sharing together. Spoken word is storytelling into the new generation."
Catch the Spoken Word poets everyday in Week 2 on the Red Hot stage, Creativity and Crisis program area.
For those who can't get enough spoken word, check out the poetry slam at the Good Hope and Naylor Corner stage in the Citified program on July 6, 3:30 to 7:00 p.m.
Patricia Wakida is a writer and historian based in Boyle Heights, a neighborhood of Los Angeles, California.