The Sounds of the 2012 Folklife Festival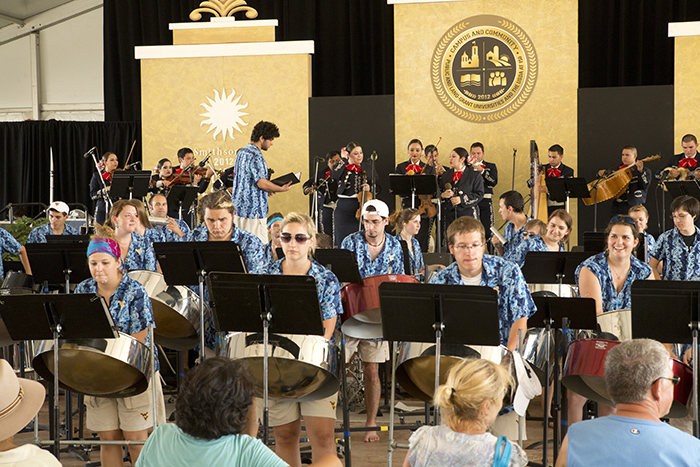 The 2012 Smithsonian Folklife Festival included musical performances that explored the diversity of the Campus and Community: Public and Land-grant Universities and the USDA at 150 program.
University-based groups—such as the University of Hawai`i's Tuahine Troupe and UNUKUPUKUPU, the University of Texas-Pan American's Mariachi Aztlán, and West Virginia University's Steel Drum Band—demonstrated not only how they draw on traditional music, but also how they help it thrive in a new generation. For some group members, performing music has significantly enhanced their university experiences. Moreover, the musicians engage their communities through performances and workshops at local schools and other venues.
The Tuahine Troupe seeks to preserve the language of Hawai`i, and presented Hawaiian mele, a type of song or chant that is performed by native Hawaiian speakers to express traditional stories. The group is part of Ka Waihona A Ke Aloha: Ka Papahana Ho'oheno Mele, the Mele Institute of Kawaihuelani Center for Hawaiian Language at the University of Hawai'i at Mänoa. The second group from the University of Hawai`i is UNUKUPUKUPU, which is the name of Dr. Taupōuri Tangarō's rigorous hula curriculum.
The award-winning University of Texas-Pan American Mariachi Aztlán was originally formed to promote Mexican folk music and a better understanding of Hispanic culture. Group members see themselves as cultural ambassadors and seek to create cultural bridges between Mexico and the United States. They performed a special concert with mariachi legend Nati Cano on July 6.
West Virginia University's Steel Drum Band consists of forty WVU students who travel widely to perform the sounds of the tropics. Ellie Mannette, the "father of the modern steel drum" and National Heritage Fellow, joined the group on June 27.
Watch a video of Smithsonian Folkways artists Mariachi Los Camperos de Nati Cano performing "Mexico Lindo" at the 2004 Folklife Festival.
See the Smithsonian Folkways Anthology of Hawaiian Music produced from the 1989 Hawai`i Folklife Festival program. Dr. Taupōuri Tangarō, a professor at Hawai'i Community College, was a participant in the 1989 program and returned for the 2012 Campus and Community program.
Listen to UTPA Mariachi Aztlán and the WVU Steel Drum band collaborate at the 2012 Smithsonian Folk Festival!
Alida Fitzpatrick is an intern with the Center for Folklife and Cultural Heritage.