Quilt Magic #1--Meet Gert McMullin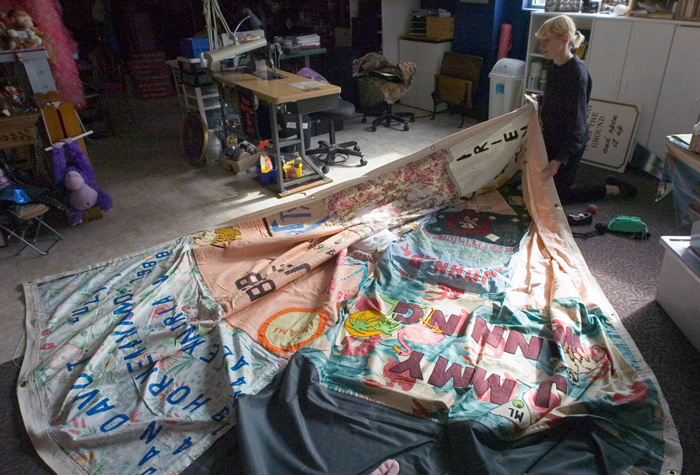 My name is Gert McMullin. I have been working with The Quilt since May 1987 in Quilt production and sewing at The NAMES Project Foundation.
In mid-1996, The NAMES Project was preparing for a full display of The Quilt on the National Mall in D.C.—forty thousand panels and thousands more being sent in to be included. Our staff was incredibly busy, especially our volunteer coordinator, Mike Moreno. Mike was in the midst of trying to coordinate some fifteen thousand volunteers that would make it possible to get the display organized once in D.C. But as busy as he was, he was determined to finish a panel for his friend in time for the display.
As the days got nearer to the panel deadline, he was getting less and less free time to work on his panel. So as the weeks passed, it just sat in a corner in his office. I was in charge of sewing all of the new panels together into blocks and was in a frenzy trying to get it done in time. It was a crazy busy time for all of us.
One day while checking new panels and bundling (the process of selecting where a panel will be located within a block), I came across a panel that I knew would look fabulous with the one Mike was trying to finish. So I did something quite unusual for me. I began pressing Mike to finish his panel so that I could bundle it with the one I had just checked in. Anyone who knows me knows that this behavior is not ordinary for me. I believe strongly that when making a panel you should not rush it or let anyone else rush you. Nonetheless, I would not back down. I think he was getting a little upset with me, but he finally gave in and completed his panel. He then handed it over to me and went back to work.
D.C. was fast approaching, and we were in full frenzy mode—Mike never having any time to see his panel finally sewn into a 12x12 block. It was packed up and on its way to Washington, D.C., with all the others.
After the display opened, I was in the middle of the display area when I heard someone call me. I turned around to find Mike and a volunteer looking at me. Mike was looking at me so strangely. He didn't say a word. Frankly, he looked like he was in shock over something. The volunteer spoke for him, "Mike wants to thank you. Thank you for pushing him to finish the panel as you did. He wants to know how you knew. We never spoke of him, did we?"
I said, "What are you talking about?"
"How did you know that they were best friends? The panel you checked in—the one you told me about… that was his best friend."
I replied, "Mike, I didn't know. The Quilt did."
Come meet Gert McMullin at the Festival this summer in the Creativity and Crisis program area.