"Outing" Our Humanity: A Personal-Professional Reflection on Creativity and Crisis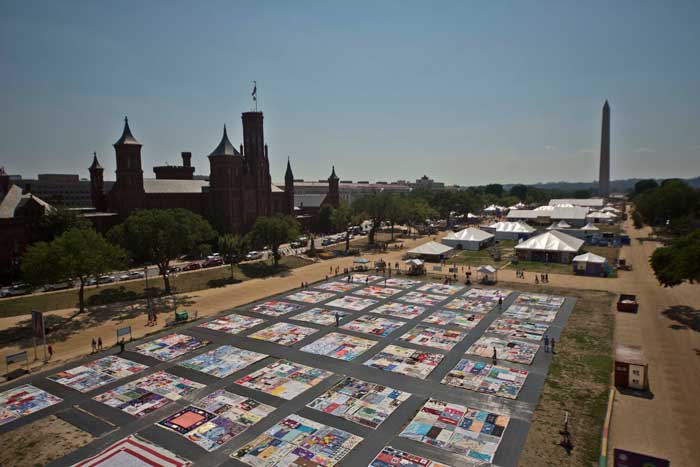 When The Names Project Foundation came to the Center for Folklife and Cultural Heritage conference room in spring 2011 to discuss a Smithsonian Folklife Festival program about the AIDS Memorial Quilt, I asked if the program would include making new 3' x 6' panels to commemorate Smithsonian Institution colleagues and their family members who had died of AIDS.
I quietly recalled what may have foreshadowed a crucial moment for cultural diversity at the Smithsonian in 1989 when a gay colleague (Leonard Hirsch, who co-founded the Smithsonian Institution Lesbian and Gay Issues Committee and who organized the first meeting of what later became Federal GLOBE: Gay, Lesbian, Bisexual, and Transgender Employees of the Federal Government) came to my office to request formal institutional support for a public activity in New York City that would acknowledge gay and lesbian identity at the Smithsonian. I was then serving as Assistant Secretary for Education and Public Service, which officially advocated inclusion and cultural diversity as fundamental aspects of the Smithsonian mandate to increase and diffuse knowledge.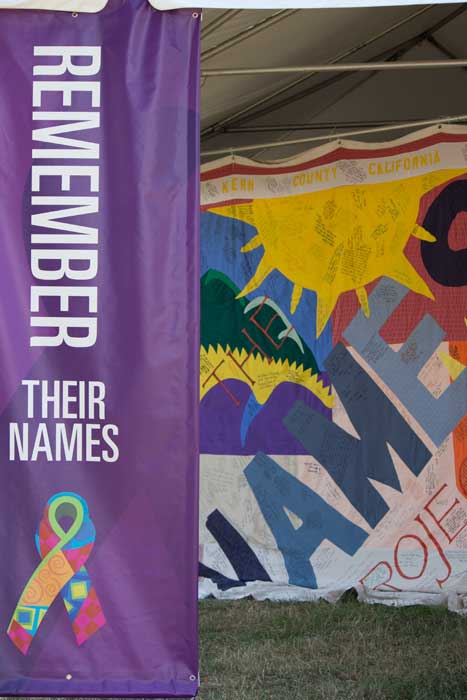 We readily agreed on the ethical value and professional responsibility of recognizing a shunned community. Identity generally lived in the shadows as many people seemed fearful of prejudice and rejection by otherwise straightforward and generous Smithsonian colleagues in the common pursuit of the increase and diffusion of knowledge.
In responding to my colleague, I understood that AIDS was not restricted to gay men, but I felt and weighed the societal prejudice at that time against homosexuality and the tendency to identify AIDS solely with sexual orientation. I also appreciated the courage of the colleague who challenged the Smithsonian to honestly, openly embrace this dimension of cultural identity/cultural diversity/cultural democracy proclaimed throughout the Smithsonian.
I simultaneously stepped beyond my not totally resolved homophobia and assumed my public service professional responsibility. As national arts organizations were beginning to foreground AIDS as a workplace culture issue—focusing on drawing formal attention to the well-being of artists who were suffering disproportionately as a professional community—I suggested that we include the subject in Smithsonian employee health protocols.
Leonard Hirsch recently reminded me that my office signed papers that provided space to meet about the topic and facilitated assistance from the Smithsonian Visitor Information Associates Reception Center to work with all Smithsonian museums in flying red flags, which marked early public recognition in 1989 of World AIDS Day in the Nation's Capital.
The success of this past summer's Creativity and Crisis Folklife Festival program provides an opportunity to reflect on the cultural democracy achieved in the workplace over the last quarter century, which includes not only the recognition of World AIDS Day, but also such programs as the Smithsonian case-exhibit curated by Barbara Clark Smith and Marvette Perez in 1994 commemorating the twenty-fifth anniversary of the Stonewall Riot, which launched the beginning of the modern gay civil rights movement; as well as a current collaboration of over 100 Smithsonian staff who are creating a block (eight panels) for The AIDS Memorial Quilt to commemorate friends, family, and colleagues.
It also provides an opportunity to reflect on the yet uncharted road ahead, including avoiding a repeat of the recent backward step of censorship of the unprecedented progressive Hide/Seek: Difference and Desire in American Portraiture exhibition at the National Portrait Gallery.
Folklife Festival collaboration with The Names Project Foundation, the many colleagues across the museums and research centers that comprise the Smithsonian, and the thousands of visitors, including family members, who attended the Festival and participated in recognizing those who have died and those who live with AIDS, is an important marker of how far we as a nation and a national museum have progressed.
Confronting all apprehension and potential reprisal, we enthusiastically embrace the lives and acknowledge the deaths of colleagues and fellow citizens not always included under the banner of cultural diversity we now freely wave.
James Counts Early is director of cultural heritage policy at the Smithsonian Center for Folklife and Cultural Heritage.