Meet Amelia Exotica Floridana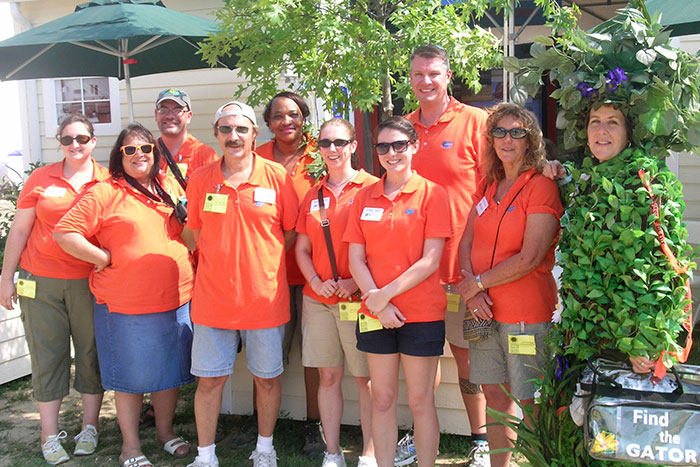 Amy Richard is a coordinator with the Florida Invasive Plant Education Initiative at the University of Florida's Center for Aquatic and Invasive Plants, and she and her colleagues have brought a new approach to science education with her to this year's Smithsonian Folklife Festival. Her character, named Amelia exotica floridana, educates students of all ages about invasive plant species through visual and experiential interactions. Amy dresses up in a costume that visually represents the difference between an invasive species monoculture and a diverse habitat of native plants.
Amelia exotica floridana was created in 2006 when Amy was attending National Invasive Weeds Awareness Week at the Botanical Gardens in Washington, D.C. "It was Kids' Day at the Botanical Garden and there was no space for a booth, so I decided to go out and interact with the public," recalls Amy, "I don't like standing still and waiting… I think people are sometimes intimidated by science; that was one of the inspirations for the costume, to break those barriers."
Since 2006, Amy and her colleagues at the Center for Aquatic and Invasive Plants have taken Amelia Exotica Floridana on the road—to classrooms, teacher workshops, museums, agricultural expositions, and festivals. Amy says that students of all ages respond positively to Amelia; they're drawn in by the surprise and unexpectedness of the presentation and persona and are encouraged to interact and ask questions.
Much like Professor Diane Ullman's fusion of visual art and entomology, Amy's incorporation of acting and theater into environmental education has increased students' interest and engagement. Another goal is to use this creative approach to draw attention to the dedicated public servants at land grant universities who share what they've learned and studied their whole careers with the public.
In the years since Amelia exotica floridana was first conceived, a fair amount has changed in the awareness of invasive species. Amy says more people are now aware of invasive species and some of the problems associated with them. These days, she spends more time clarifying and less time introducing concepts. For example, she tries to stress the nuances of managing invasive plants: not all non-native species are dangerous; most aren't a problem and many are beneficial. However, there are some that harm the economy, the environment, or human health and these are considered to be invasive.
Amy explains that she wants students to understand the power they have to influence their environment. Ultimately, she is "trying to help kids realize that when they grow up, they're going to be stewards for their community and local environment. The decisions they make will have consequences and they will have responsibilities to be aware." By bringing Amelia exotica floridana to the 2012 Folklife Festival, she is able to reach large, diverse audiences and interact with both visitors and participants.
Come by the University of Florida tent in the Sustainable Solutions area of the Campus and Community program to see Amy and meet Amelia exotica floridana and her colleagues, and explore all the innovative approaches to education developed by participating land grant universities.
James Mayer is an intern at the Smithsonian Center for Folklife and Cultural Heritage. He recently graduated from Macalester College, where he studied history and classics.