From the Test Kitchen: Maple Nut Pie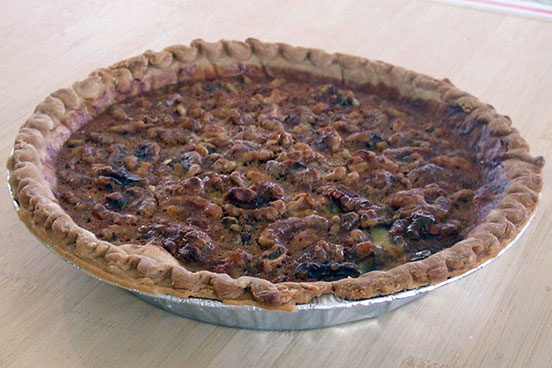 This is our last day of the 2012 Smithsonian Folklife Festival and our last daily recipe from the Campus and Community Foodways Test. We hope you were able to drop by the Test Kitchen, in the Campus and Community "Building on Tradition" area, to see live demonstrations and meet the chefs! Check back on our website for more recipes from the Test Kitchen.
Maple Nut Pie
University of Vermont, "Vermont Maple Syrup"
The University of Vermont (UVM) Extension and the Vermont Agricultural Experiment Station work with Vermont maple-syrup makers to improve the state's signature crop. The innovative work of UVM's Proctor Maple Research Center focuses on the sugar maple tree (Acer saccharum Marshall) and its products—sap and sugar. The result of this work, research and state pride is a scrumptious, unique product, showcased perfectly in a decadent pie with a luscious topping.
Ingredients
For the pie:
1 tablespoon flour
1 cup pure Vermont medium amber maple syrup
1 teaspoon vanilla
1 cup chopped walnuts (or other nut)
3/4 cup granulated maple sugar
3 beaten eggs
1/4 cup melted butter
1 nine-inch unbaked pie shell
For the Maple Whipped Cream:
1 cup heavy whipping cream
1/4 cup pure Vermont maple syrup
Method
For the pie:
Mix all the ingredients together and pour into a 9-inch unbaked pie shell.
Bake at 350ºF for 40 to 50 minutes.
For the Maple Whipped Cream:
Chill a metal bowl in the freezer. Once chilled, remove the bowl and add the cream, then beat with a mixer.
As the cream begins to thicken, gradually drizzle in the maple syrup. Continue beating until stiff peaks form.

Serve atop the Maple Nut Pie or any other favorite dessert! Sprinkle with pure granulated maple sugar for an added sparkle.
Recipe courtesy of the Vermont Maple Sugar Makers' Association.