LISTEN! NPR Talk of the Nation at the Festival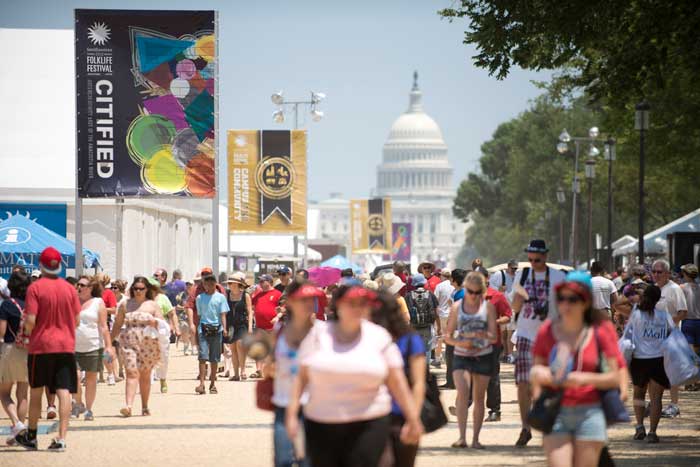 NPR's live call-in show Talk of the Nation is broadcasting from the Smithsonian Folklife Festival TODAY, July 5, 2 to 4 p.m., Eastern Time.
For those of you in D.C.—come down to the Festival and watch the program in-person at the "Giving Voice" stage of the Creativity and Crisis program.
Tune in and listen as Neal Conan interviews Folklife Center staff and Festival participants. We will be taking live call-ins, too!
Program topics
WOODY GUTHRIE CENTENNIAL: Born on July 14, 1912, Woody Guthrie was an American folk icon—a poet of the people— who wrote some of America's most important songs, and inspired folk revivalists of the 50s and 60s to take on politics and civil rights. Neal Conan talks with Bob Santelli, executive director of the GRAMMY Museum and author of This Land Is Your Land: Woody Guthrie and the Journey of an American Folksong, and Jeff Place, head archivist of the Smithsonian Center for Folklife and Cultural Heritage and author of Woody at 100: The Woody Guthrie Centennial Collection about Guthrie's life, and his influence on  American music, culture, and ideas.
REINVENTING AGRICULTURE: This year marks the 150th anniversary of the signing of the Morrill Act by Abraham Lincoln. The Act granted each state 30,000 acres of public land to establish access to higher education for millions of people, including farmers, first-generation college students, and people in under-served communities. These places came to be known as land-grant colleges and universities. With the support of the USDA, many of these institutions supported  farmers and ranchers with cutting-edge research to increase seed quality, crop yield, and food security. Now, with a growing population and looming environmental challenges, land-grant institutions are more important than ever. Neal Conan talks with Sandy Rikoon of the University of Missouri about land-grant institutions and their impact on the future of agriculture.
THE AIDS MEMORIAL QUILT: Quilts hold a special place in American culture, reflecting pieces of our lives that are passed on from generation to generation. In 1987, a small group of people in San Francisco started a quilt to document the history of people dying from HIV/AIDS. Today, more than 48,000  panels have been woven together to memorialize lives lost to the pandemic. The AIDS Memorial Quilt returns to the National Mall for the first time in a quarter century. Neal Conan talks about the journey of The Quilt and the power of naming with Gert McMullin, The Quilt production coordinator of the NAMES Project Foundation, and Chris Locklear, who created panels for his friend Kenneth Williams who passed away in 2007.
TREVOR NOAH: In a just a few years, comedian Trevor Noah went from performing at amateur clubs to selling out large theaters in his native South Africa. Born to an African mother and Swiss father during the apartheid era, much of Noah's comedy stems from growing up biracial  in a township where Blacks and Whites were separated by law.  Neal Conan talks with Noah during his stay in America about his stand-up career and what it's like to perform for different cultures in foreign countries.