Festival Photo Daily Dozen: July 8
Gallery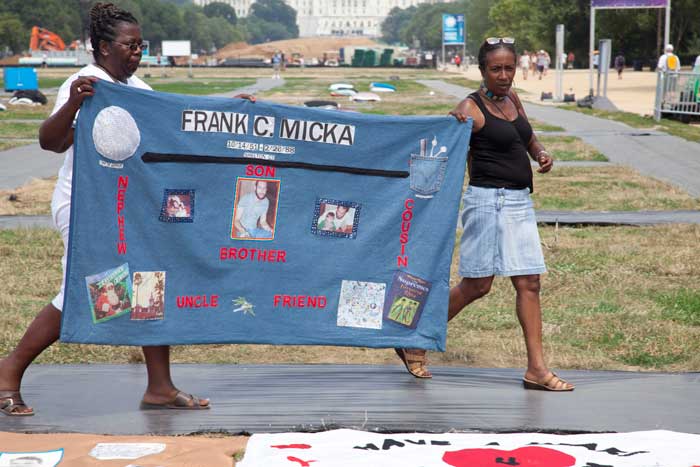 New panels are brought out to The Quilt display for dedication at a ceremony in the Creativity and Crisis program.

Photo by Michael Barnes, Ralph Rinzler Folklife Archives

Rita Navarrete Perez from the University of New Mexico teaches people about the healing power of laughter in a Laugh Therapy seminar in the Justin S. Morrill Performing Arts Center tent of the Campus and Community program.

Photo by Walter Larrimore, Ralph Rinzler Folklife Archives

USDA representatives have been diligently watering the plants in the People's Garden of the Campus and Community program during the heat spell.

Photo by Josh Weilepp, Ralph Rinzler Folklife Archives

Goats enjoy a mid-day snack in the Campus and Community program.

Photo by Josh Weilepp, Ralph Rinzler Folklife Archives

In the Campus and Community program, recording artist Jeff Guernsey gives Smithsonian NMAI intern Jacylyn Nash pointers on a violin made at the University of Indiana.

Photo by Francisco Guerra, Ralph Rinzler Folklife Archives

Anacostia artist and art educator Melani N. Douglass teaches visitors how to make stained glass out of brightly colored paper in the Douglass Hall tent of the Citified program.

Photo by Walter Larrimore, Ralph Rinzler Folklife Archives

Local dance company Da Originalz show off their moves to promote leadership, creativity, and confidence at the Good Hope & Naylor Corner tent in the Citified program.

Photo by Carsten Schmidt, Ralph Rinzler Folklife Archives

The Taratibu Youth Association performs at the Panorama Room tent of the Citified program.

Photo by Francisco Guerra, Ralph Rinzler Folklife Archives

East of the River Boys and Girls Steel Band perform in the Panorama Room tent of the Citified program.

Photo by Michael Barnes, Ralph Rinzler Folklife Archives

Rasheeda Burston teaches a visitor how to make a quilt yo-yo at the family activities tent of the Creativity and Crisis program.

Photo by Charlotte Krohn, Ralph Rinzler Folklife Archives

New panels are laid out and dedicated, officially becoming part of The AIDS Memorial Quilt, the largest community art project in the world.

Photo by Michael Barnes, Ralph Rinzler Folklife Archives

Douglas Pierce performs with the University of the District of Columbia's Jazz Ensemble on the Morrill stage.

Photo by Pruitt Allen, Ralph Rinzler Folklife Archives
The final day of the Festival!
Thank you to all the staff, interns, volunteers, organizational partners, participants, and visitors. We appreciate your energy, enthusiasm, and endurance.
We will continue to post galleries, reports, reflections, videos, and audio streams from the 2012 Festival on this site and on Facebook. We will also begin to post previews of future programs.
Keep checking back and stay tuned!