Festival Photo Daily Dozen: July 5
Gallery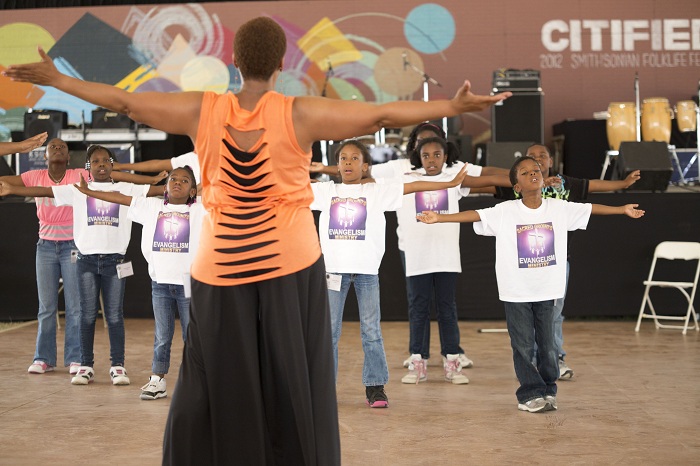 A member of Dancing with a Purpose Ministries leads a group of young visitors in the movements of liturgical dance in the Panorama Room tent of the Citified program.

Photo by Pruitt Allen, Ralph Rinzler Folklife Archives

Young visitors at the Michigan State University tent work on a crafts project.

Photo by Robert Friedman, Ralph Rinzler Folklife Archives

Staff and students from University of Tennessee provide visitors with a tour of their Solar Decatholon house in the Campus and Community program.

Photo by Walter Larrimore, Ralph Rinzler Folklife Archives

Reunion Hall tent of the Campus and Community program.

Photo by Francisco Guerra, Ralph Rinzler Folklife Archives

Hip-hop artist Head-Roc performs on the Panorama Room stage of the Citified program.

Photo by Pruitt Allen, Ralph Rinzler Folklife Archives

BK "IAMART" Adams works on a metal sculpture in the Citified program area.

Photo by JB Weilepp, Ralph Rinzler Folklife Archives

Creativity and Crisis program participants took a spin on the carousel on the National Mall.

Photo by Walter Larrimore, Ralph Rinzler Folklife Archives

The AIDS Memorial Quilt.

Photo by Walter Larrimore, Ralph Rinzler Folklife Archives

Live from the Festival grounds, NPR's Talk of the Nation host Neal Conan (right) interviewed Jeff Place, head archivist of the Smithsonian Center for Folklife and Cultural Heritage and author of Woody at 100: The Woody Guthrie Centennial Collection, about Guthrie's life and his influence on American music, culture, and ideas.

Photo by Francisco Guerra, Ralph Rinzler Folklife Archives

Creativity and Crisis presenter Anthony Knight asks a question during the NPR Talk of the Nation live broadcast from the Giving Voice stage.

Photo by Pruitt Allen, Ralph Rinzler Folklife Archives

The West Virginia University Steel Band and University of Texas-Pan Am Mariachi Aztlán perform together on the Morrill stage of the Campus and Community program.

Photo by Pruitt Allen, Ralph Rinzler Folklife Archives

Visitors peruse the items and speak to artists and vendors at the Festival Marketplace, which is located on the lawn of the USDA on Jefferson Drive.

Photo by Joe Furgal, Ralph Rinzler Folklife Archives
Today's Festival highlights include the live broadcast of NPR's Talk of the Nation from the Giving Voice stage of the Creativity and Crisis program and the collaborative performance by West Virginia University Steel Band and University of Texas-Pan Am Mariachi Aztlán on the Morrill stage of Campus and Community.
Only three more days left. Hope to see you down on the National Mall.
Click on images to enlarge and see captions.