Experiencing South Africa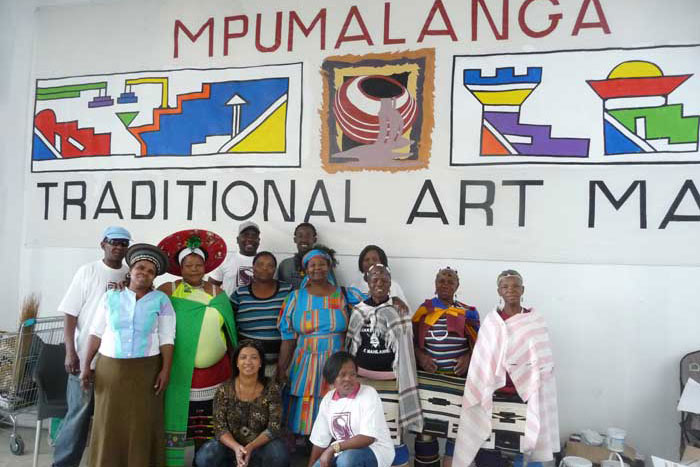 South Africa has beckoned to me for many years. This beacon was set forth across the seas by Nomvula Mashoai-Cook, my friend and former Smithsonian Folklife Festival researcher and presenter who lives and works there. Ever since she moved back to her native Lesotho and later to South Africa over a decade ago, she has been urging me to visit, to come experience the culture and the work she has been doing with craftswomen across the country, culminating in the annual Mpumalanga Traditional Arts Market (MTAM), which is in its fifth year.
Finally heeding the call, I traveled to South Africa from September 23–October 7, 2012, with support from the Smithsonian Research Opportunities Fund. My mission was to assist with the preparations for the MTAM, attend the event and make recommendations for adding more educational activities, and to conduct traditional medicine research to assess the possibility of a South African case study for a future Smithsonian Folklife Festival program.
The experience resulted in the trip of a lifetime, which I report further through the photo essay below. The trip has already generated a set of recommendations for improving the educational features of the MTAM; a children's activity based on this year's MTAM; the transcript of an interview with Museum Africa curator Zola Mtshiza; and a set of slides documenting the painting of two Ndebele murals at the Market.
With fall intern Emily Knott from Lander University, I am also working on a slide presentation documenting my visit to a traditional herb shop, and other follow up to the preliminary research on South African traditional healing. I am so glad that I finally heeded the call to South Africa, and I sincerely hope I will get to visit there again before long!
Click on image to enlarge and view slideshow.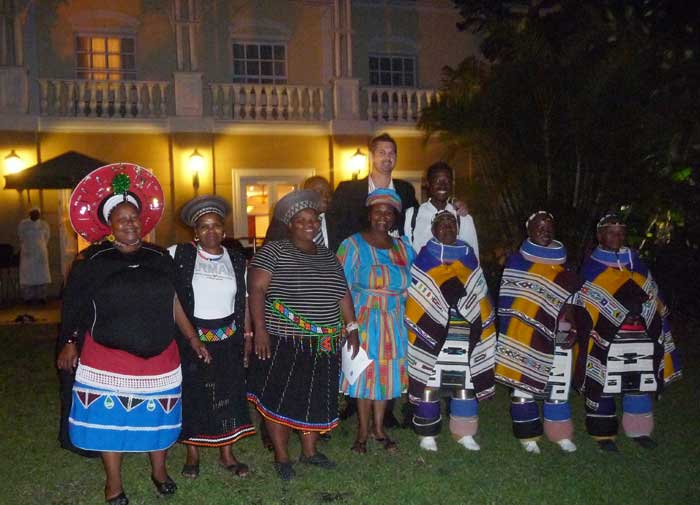 A visit to the Apartheid Museum is a must for visitors to Johannesburg. One of the first things visitors see is this striking walkway with life-size photos printed on mirrors.

Photo by Betty Belanus

Nomvula Mashoai-Cook, who has worked with the Center on several Festival programs, was hard at work in her home office in Johannesburg, planning the Mpumalanga Traditional Arts Market, which took place on September 28-30, 2012. The Market is based on Nomvula's training at the Smithsonian Folklife Festival and the Santa Fe Arts Market.

Photo by Betty Belanus

The craftswomen traveling to the Market gathered at Nomvula's home for the drive to Nelspruit, Mpumalanga. All of their craft wares and the other items needed for the Market were packed into three vehicles for the five-hour trip Northeast.

Photo by Betty Belanus

A party hosted by the Emnotweni Sun Hotel launched the Market. Under a full moon, participants gathered on the lawn of the hotel for greetings and a performance of the Kruger Cultural Dance Group.

Photo by Betty Belanus

One portion of the Market, which took place inside the Riverside Shopping Mall in Nelspruit, featured "best of the best" crafts from craftswomen who had participated in the past.

Photo by Betty Belanus

Market helper Mabel Terblanche purchases samples of biltong, a popular dried meat snack similar to beef jerky, for a "discussion stage" session on South African foods. Biltong is sold in supermarkets, or from small stalls within the shopping mall such as this one.

Photo by Betty Belanus

Lobelile Ximba of Mudan displays her handmade beaded dolls at a stall in the Market. She attended the 2012 Smithsonian Folklife Festival as a participant in the "Creativity and Crisis" program.

Photo by Betty Belanus

Nomvula Mashoai-Cook presents a discussion on the making of wire baskets with craftswoman Nomvulaselelo Mavundla of Durban during the Market.

Photo by Betty Belanus

Ndebele artists Nomvula Ntuli, Rachel Skosana and Jo Anna Kabini perform a traditional dance during the Market, accompanied by the Kruger Cultural Dance Group's drummers.

Photo by Betty Belanus

Market curator Zola Mtshiza and helper Thabo Monaleli model the Market t-shirt which features the image of a bowl full of a traditional drink which pays homage to ancestors, the symbol of the event.

Photo by Betty Belanus

After the Market was successfully wrapped up, I accompanied a group traveling to Kuruman in the Northern Cape to pay a visit to a place of traditional healing, the home of famous sangoma (traditional healer) Credo Mutwa and his wife Virginia. These buildings are on the grounds of their hospital and home compound.

Photo by Betty Belanus

Mabel Terblanche, who is studying traditional healing methods, took me to visit her friend Sundran Pillay in Alberton, a suburb of Johannesburg, to view his traditional herb shop.

Photo by Betty Belanus

A visit to the Natural History Museum in Pretoria shed light on the edible "mopane worm" which is actually a type of caterpillar. In some areas of South Africa, people enjoy eating dried mopane worms in various dishes.

Photo by Betty Belanus

Nelson Mandela Square in the Sandton area of Johannesburg is a popular tourist destination. Many people wish to get a photo taken of themselves with the gigantic statue of the famous activist and leader.

Photo by Betty Belanus
Betty Belanus has worked at the Center for Folklife and Cultural Heritage since 1987. She has curated many Folklife Festival programs including, most recently, Campus and Community (2012), Wales Smithsonian Cymru (2009), and The Roots of Virginia Culture (2007).