Creating a Citified Community on the National Mall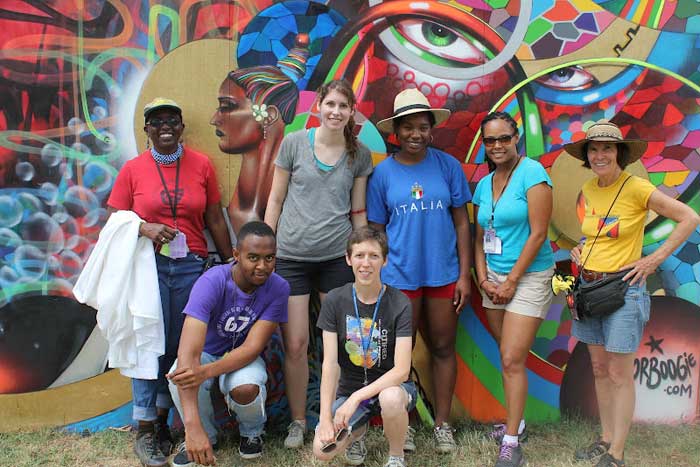 In reflecting on our experiences at the 2012 Folklife Festival, the team of interns from the Citified: Arts and Creativity East of the Anacostia River program kept coming back to the concept of community. For us, the notion of community includes working together towards a common goal, bonding over shared experiences, forming ideas through different perspectives, and creating a comfortable environment. Throughout our two weeks spent on the National Mall, we experienced firsthand all of these aspects of community as they developed within the Citified program.
Before the festival began, participating artists were already excited to bring east-of-the-river experiences, history, and culture to the National Mall and to increase the visibility of and appreciation for this often-misrepresented and overlooked hub of creativity. We were especially moved by the encouraging atmosphere the participating artists created at their pre-festival orientation. Although many participants were meeting for the first time, they already exhibited a sense of support and connection.
We noticed that many of the participating artists shared the experience of growing up in an area where overcoming obstacles related to racial and economic inequities was a part of daily life, and they are drawn to art and creativity as means for engaging and empowering their communities.
The Taratibu Youth Association, for example, prides itself on engendering self-respect among their members through dance and song. One of our favorite songs was "Black Girls," a piece that responds to misconceptions about African American names and encourages women to embrace their names and heritage.
Although the participating artists had myriad talents and passions, they all hold similar values when it comes to art, education, and community engagement. For example, master storyteller Baba-C uses the art of storytelling to share messages about self-esteem and heritage; Melvin Deal, the founding director of African Heritage Dancers and Drummers, uses drumming and movement to express similar messages about self-respect and cultural background. Tattoo artist Charles "Coco" Bayron discussed the importance of tattoos to personal identity construction by telling a story of an individual's life and heritage.
Over the course of the Festival, the Citified staff, participating artists, and festival-goers collaborated on the creation of a comfortable and nurturing environment. The artists supported one another, which created a strong sense of camaraderie. For example, Baba-C made an effort to learn from different artists, contribute to the discussions, and intermittently exclaim, "Yebo!" ("yes!" in Zulu) in encouragement.
Easy-going even in extreme heat, the Iverson Mall Line Dancers motivated audiences to get up and participate in popular dances like the "Wobble" and "Cupid Shuffle." Albus Cavus, a muralist collective, were a continuous force in strengthening the Citified community and enlivening the program site through ongoing demonstrations by artists and by encouraging visitors to participate in creating murals. While some parents were worried their children would interfere with the artists' work, Albus Cavus strongly encouraged the children and all visitors to contribute.
---
Support the Folklife Festival, Smithsonian Folkways Recordings, sustainability projects, educational outreach, and more.