From the Test Kitchen: Butternut Squash Soup
We will be posting a selected recipe from the Campus and Community Foodways Test Kitchen daily, along with some background information on the institutions, recipes, and the ingredients. Drop by the Test Kitchen, in the Campus and Community "Building on Tradition" area, to see live demonstrations and meet the chefs! Visit the Festival Schedule for a complete list of demonstrations.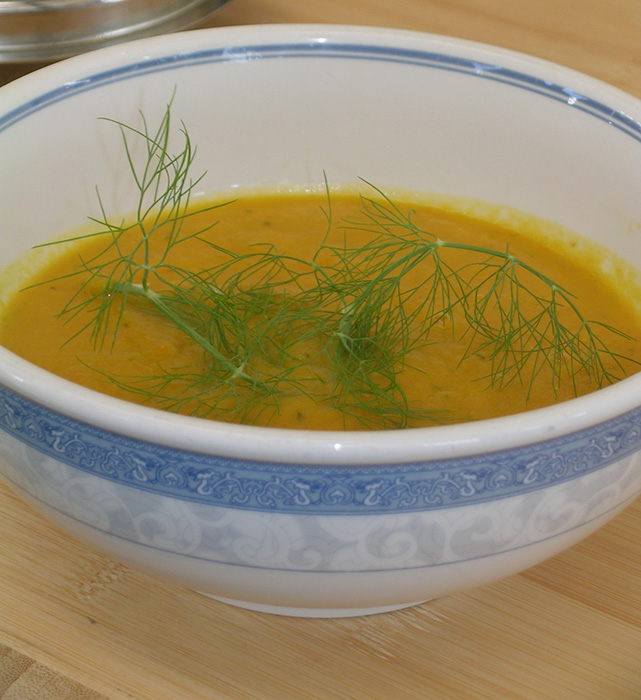 Butternut Squash Soup
University of the District of Columbia, "Specialty Crop Cooking"
The University of the District of Columbia's Center for Nutrition, Diet and Health was established in 2000 out of a need to enhance the impact of nutrition, diet and health programs on the residents of the District of Columbia. The center's motto is "healthy persons, families, and communities in D.C. must eat well to live well." This motto certainly applies to communities well beyond DC, and this light butternut squash soup will definitely help you live well.
Ingredients (serves 6)
2 tablespoons olive oil
2/3 cup diced carrots
1/2 cup diced celery
2/3 cup diced onion (about 1 medium onion)
4 cups cubed butternut squash (about 1 medium squash)
1/2 teaspoon chopped fresh thyme
4-6 cups low- sodium chicken broth
Sea salt and pepper, to taste
Method: 
In a large soup pot, heat olive oil.
Sauté the carrots, celery, and onion for 3 to 4 minutes until they are soft and the onions turn translucent.
Add the butternut squash and thyme. Stir to combine with vegetables. Add the chicken broth and season with salt and pepper.
Bring to a boil, reduce heat and simmer for about 30 minutes until the squash becomes fork- tender.
After letting the soup cool slightly, carefully puree soup in a traditional blender, in batches, then serve.
Recipe courtesy of Tyrome Henson, aka Chef T.