From the Test Kitchen: Buffalo Mini Pizzas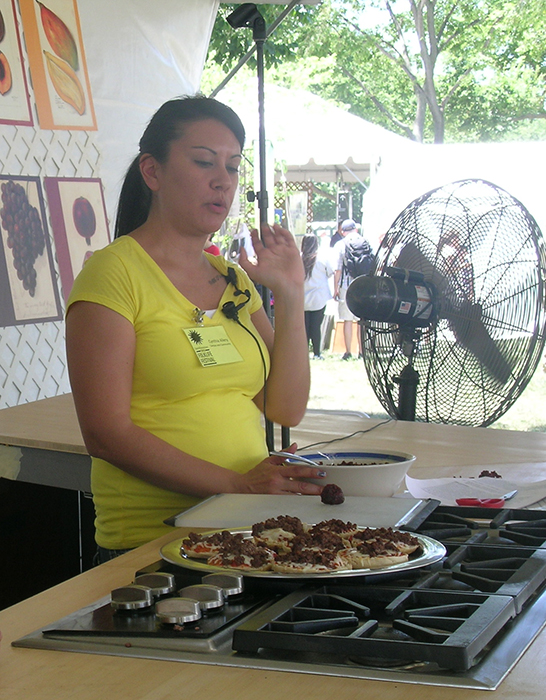 We will be posting a selected recipe from the Campus and Community Foodways Test Kitchen daily, along with some background information on the institutions, recipes, and the ingredients. Drop by the Test Kitchen, in the Campus and Community "Building on Tradition" area, to see live demonstrations and meet the chefs! Visit the Festival schedule for a complete list of Test Kitchen presentations.
27 June: Buffalo Mini Pizzas
United Tribes Technical College, "Cooking with Buffalo"
Many 1994 Land-grant Tribal Colleges and Universities are leading the wellness movement by enhancing contemporary and traditional initiatives to cultivate tribal food sovereignty—the right of people to shape and control their own food systems. Substituting buffalo, a traditional and healthy ingredient, for beef in this otherwise familiar recipe demonstrates one way to get involved with the growing food sovereignty movement.
Ingredients
1 package English muffins
1 lb ground buffalo
1 jar pizza or spaghetti sauce
8 oz. package mozzarella cheese
Various toppings such as black olives, green peppers, mushrooms, onions, etc.
Method
Brown and drain the ground buffalo meat. Put it aside in a bowl.
Place your desired amount of sauce on each of the English muffins. Top with cooked buffalo, mozzarella cheese, and additional toppings if desired.
Bake at 400º F for 8 to 10 minutes.
Recipe courtesy of United Tribes Technical College Extension program, presented by Cynthia Allery, UTTC's nutrition educator for Land Grant Programs.