Albus Cavus and the Renaissance of Washington, D.C.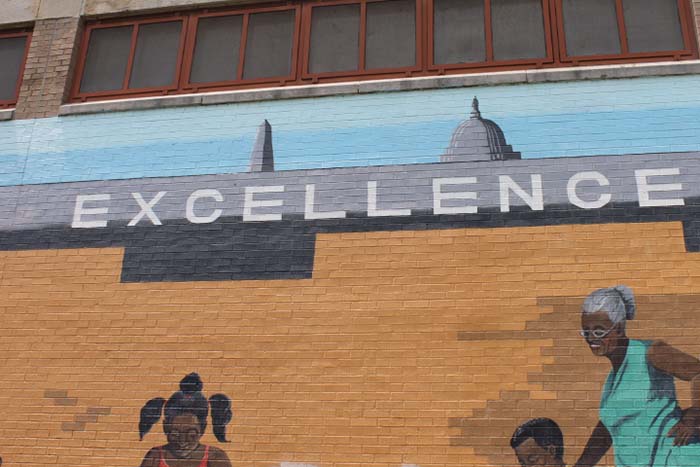 Peter Krsko, coordinator of artists' collective Albus Cavus, recently gave Smithsonian interns a tour of the murals of Washington, D.C. As showcases of creativity and talent, these murals challenge negative connotations associated with graffiti art and are among the many murals that can now be found all over D.C. As demonstrated by the Citified program at the Festival, members of the Albus Cavus cooperative are engaging the residential communities east of the Anacostia River.
Peter believes that public art has the ability to transform a city, and that Washington, D.C., is in the midst of an invigorating arts revival. Peter talked enthusiastically about local artists who are working collaboratively on these community art projects. He described the people of Wards Seven and Eight as welcoming and open to him as both an individual and as an artist.  He also stressed that mural projects been taking place not only east of the Anacostia River, but also throughout all of D.C.
Murals have the ability to motivate people of all ages to work together and beautify their neighborhoods. These murals reflect what the people of the community want to see outside their homes and thus showcase the strengths, perseverance, and ideals of the community. From back alleys to major thoroughfares, murals have become an important form of communal representation in the D.C. art scene.
Peter Krsko and other local artists and members of Albus Cavus are painting a mural of their own as part of the Festival's Citified program.
See images from Krsko's tour of D.C. Click on images to enlarge.  All photos by Kate Aebischer
Kate Aebischer is an intern with the Citified program at the 2012 Smithsonian Folklife Festival. She is studying anthropology at The College of New Jersey.