2012 Festival: A Volunteer's Reflections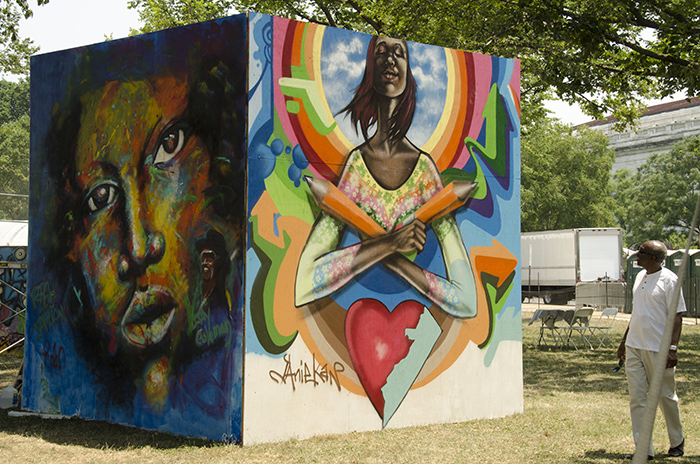 I have volunteered and worked at several Smithsonian Folklife Festivals before, but I did not know what to anticipate when I went down to the Festival grounds on Sunday, July 1. Deadly winds had ripped through the D.C. metro area the previous Friday night, downing power lines, toppling trees, and creating havoc in the District, Maryland and Virginia. Even the Festival itself, which almost never closes unexpectedly, was forced to close down on Saturday, June 30, because of damage to Festival tents and exhibits.
Arriving on the Sunday morning after the Festival closure, I was thrilled to see that the Festival staff and volunteers had worked overtime on Saturday to make the Festival grounds as good as new. Some signs were still blown over, and some piles of tree limbs and debris remained on the periphery. A few display items were still drying out. Yet, as opening time approached, everyone was in good cheer and ready for a fun day on the Mall.
I was slated to volunteer at the Campus and Community program, so I took a few minutes before things opened to view the tall, moving murals at the Citified program and some of the personalized panels on the AIDS Memorial Quilt at the Creativity and Crisis program. The exuberant murals, with flashes of color and both representational and abstract pictures, made the Citified program grounds come alive, even though the steel drums, choral groups, master storytellers, and other performers had not yet appeared. Clusters of excited youngsters preparing to dance, sing, or just watch the performers added to the anticipation as another Festival day was about to begin.
Over at the AIDS Memorial Quilt, the staff and volunteers had created a more somber but equally moving experience. With the sun still behind the Capitol building, rows of quilt panels stretched almost to the horizon. These 3 by 6 foot panels, each roughly the size of a grave, stood as mute reminders of lives cut short by AIDS.
Yet, because they were created by loved ones, each quilt panel was a visual haiku. Photos, favorite clothing items, car keys, and references to favorite musicians memorialized each person as more than a name. Combined into a web of care, the panels brought the tragic cost of the AIDS epidemic down to human scale. Each life, so precious, had left a hole that even this giant quilt could not cover.
The Campus and Community program—which celebrated 150 years of Land-grant colleges and their contributions to the United States—was so varied that there was literally something for everyone. For example, music lovers could enjoy Texas mariachi, a West Virginia steel drum band, and Hawaiian hula. Representatives from some of the nation's Land-grant universities and colleges demonstrated how to preserve fossil specimens, milk a cow, create robots, and much more.
When I think of Land-grant institutions, I think of big public universities in rural settings, so I was surprised to see that even though the District of Columbia is a city, it has its own land-grant institution: the University of the District of Columbia. Dean Sabine O'Hara of UDC's College of Agriculture, Urban Sustainability & Environmental Sciences (CAUSES) was at the Festival, speaking on a Transforming Communities panel with Jimar Jimenez of Iowa State University and Brian Boulanger of Texas A&M.
Reaching out to immigrant communities, designing innovative water filtration systems using ceramic pot filters, and creating green spaces on the tops of urban parking garages were some of the innovative solutions discussed by the three panelists. Dean O'Hara also discussed five pillars of sustainable economic development (education, health and wellness, environment and recreation, social and cultural amenities, and technology and transportation) that are applicable far beyond the urban campus of UDC.
In sum, the Smithsonian Folklife Festival continues to expand our horizons—whether seeing the nation's Capitol building framed in quilting, celebrating D.C. communities east of the Anacostia River, or remembering that even urban D.C. can be a leader in sustainable agriculture. Thanks to all the participants, staff and volunteers for making this another memorable year.
Phil Tajitsu Nash is a Festival volunteer, Asian American Studies faculty at the University of Maryland, and curator of the Asian Pacific American program at the 2010 Smithsonian Folklife Festival.