A Visit to UC Davis: Waste Not, Want Not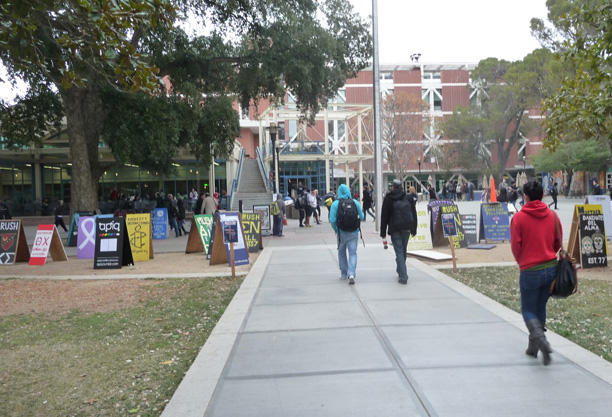 The 2012 Campus and Community: 150 Years of Public and Land-grant Universities and the USDA Festival program includes partnerships with, to date, about 20 universities and various parts of the USDA.  Unfortunately, our Festival team will only get to visit some of the universities given our time frame.  On a recent personal trip to California in late January, I had the privilege of visiting the University of California, Davis.
It was a pleasure to be on a university campus again. So much positive energy, with all those young people zipping around on foot and on bicycles, handsome buildings new and old, and beautiful landscaping and gardens! It hardly mattered that the weather was in the 40s and wet.
The staff involved in planning the UC Davis Festival participation, including folklorist and Dean Patricia Turner and her excellent assistant Sharon Knox, had planned a schedule chock full of meetings; visits to classes, laboratories, and studios; and a glimpse of numerous green spaces on campus.
The first stop after a tasty lunch at the Student Union was Dr. Ann Savageau's class on Sustainable Design.  Afterwards, Dr. Savageau took me to the design studio to meet with students involved in the BAG project, which raises awareness of sustainability issues by creating beautiful and sturdy reusable bags from materials ranging from upholsterer's samples to vinyl event markers. The studio was bustling with students drawing, draping fabrics on dress forms, and sorting fabrics for other projects. We also visited the Aggie Restore Shop, a student-driven and cleverly designed second-hand store offering everything from "gently used" clothing to class supplies at great prices.
A drive around the sprawling campus with Associate Dean Diane Ullman revealed such wonders as the West Campus, a sustainable village unto itself which endeavors to achieve a zero carbon footprint in the coming years; the Peter J. Shields Oak Grove with over 80 varieties of these stately trees; and the Häagen-Dazs Honey Bee Haven with pollinator friendly plants, educational signage, and whimsical artwork.
The next day, after more meetings, Pat Turner and I visited the ultra modern Robert Mondavi Institute for Food Wine and Food Science. First stop, the office of Dr. Charles Bamforth, considered by many beer makers to be a major deity. Dr. Bamforth (who seems much more like just "Charlie" by his modest and friendly demeanor) is one of the foremost experts on beer in the world. We visited the test brewery, and I peppered him with stupid questions about beer making--but from his patience and good humor I could tell he had been asked worse questions.  (At least I knew what hops are, because since we featured Kent County, England, as part of the 2007 Roots of Virginia Culture Festival program, I have had some growing in my garden.)
Last but not least, an olive oil tasting at UC Davis Olive Center with assistant director Nicole Stursenberger. No, not all olive oils are created equal, and some of those produced in California, including at the Olive Center, are among the best in the country. Nicole schooled us on the proper way to sample the three oils offered to us, and we learned, among other things, that olive oil can have a bitter kick to it that hits you right in the back of the throat!
It was a great visit, thanks to Pat, Sharon, and the team helping to organize the participation in the Campus and Community program by UC Davis.
Click on images to enlarge and view captions.  All photographs by Betty J. Belanus, Center for Folklife and Cultural Heritage, Smithsonian Institution
Betty Belanus is the curator for the 2012 Festival program Campus and Community: 150 Years of Public and Land-grant Universities and the USDA. She has curated many Smithsonian Folklife Festival programs including Massachusetts (1988), Family Farms in the Heartland (1991), Working at the Smithsonian (1996), African Immigrants to Metropolitan D.C. (1997), New Hampshire (1999), Water Ways: Mid-Atlantic Maritime Communities (2004), The Roots of Virginia Culture (2007), and Wales Smithsonian Cymru (2009).