The Women of R&B: Kim Weston and Shirley Jones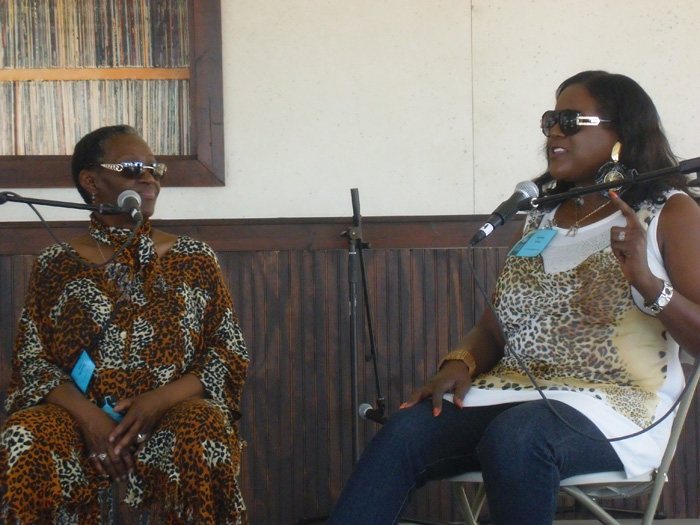 Two R&B singers featured at the 2011 Smithsonian Folklife Festival, Kim Weston and Shirley Jones, sat down yesterday to share stories about their lives in the music business with Timothy Anne Burnside of the National Museum of African American History and Culture.
Motown artist Kim Weston's high school music teacher was the esteemed George Shirley, first Black tenor to sing at the Metropolitan Opera. Ms. Weston had already been singing for years before she began studying with Mr. Shirley, having joined her church choir at the age of three. As a young adult she was approached one Sunday after church by an aspiring music producer. He asked her to make a demo recording, and her career quickly took off. Ms. Weston doesn't consider herself an R&B singer, but rather a singer with the flexibility to sing in any style she chooses; she suggested that thanks to her classical training, she could have pursued a career in opera.
In talking about life on the road, Kim Weston said that male fans from the heyday of her career don't necessarily remember her for her singing, but more likely for the form-fitting dresses she wore onstage. "I don't know if that's a plus or a minus," she said. When she sang for the Motown Revue, and faced the challenge of performing for an audience of breathless young women right after the all-male group the Contours ("Do You Love Me?"), Ms. Weston had to be strategic. She asked for a blackout with a pin spot—a very tight spotlight—to begin her act, and she started off singing in the wings. In this way she "broke the spell" that the Contours had created, and captured the attention of her audience.
Kim Weston's influences include LaVern Baker, niece of blues singer Memphis Minnie, who is remembered for hits such as "See See Rider." Ms. Weston also admires Tony Award-winning actress and Atlantic recording artist Ruth Brown, and singer Maxine Brown ("All in My Mind"). For Ms. Weston, these three performers are "the real roots of R&B." She is also a great admirer of Ella Fitzgerald, Dinah Washington, and Sarah Vaughan. The singer and bandleader Billy Eckstine, who worked with both Ms. Vaughan and Ms. Weston, commented that Ms. Weston's voice was "the greatest I've heard since Sarah Vaughan."
Shirley Jones and her sisters were the Jones Girls, backup singers for Diana Ross, and sought-after session singers for Aretha Franklin, Gladys Knight, Luther Vandross, Cher, and others. The Jones Girls were savvy when it came to the business of music, and worked out a contract with Ms. Ross that allowed them to record with other artists during the five months of the year when they were not on the road with her. Like Kim Weston, Shirley Jones got her start singing in church. She grew up in Detroit going to see the Motown Revue, and she and her sisters aspired to R&B stardom in the style of girl groups such as the Supremes and Martha and the Vandellas. Shirley considers herself an "old-school" R&B singer; Ms. Weston qualified this, saying Ms. Jones is "a new sound for the old school." Shirley Jones' influences are wide-ranging; her favorite singer is Barbra Streisand, and she admires vocalists as different as Gladys Knight and Céline Dion.
Shirley Jones learned from three years of touring with Diana Ross how best to relate to promoters. Ms. Ross was a perfectionist, very clear about boundaries, and very businesslike. She made it plain that she was in a venue to do a job, and not to party; many promoters assumed otherwise. Ms. Jones commented that if Diana Ross had been a man, her professional attitude would not have been questioned, but since she was a woman, she gained a reputation for being excessively demanding.
In discussing the importance of lyrics, Kim Weston and Shirley Jones agreed that they prefer songs that don't cast women as sad and helpless; they noted that these kinds of R&B songs were largely written by men. Kim Weston questioned the prevalence of this type of song, asking, "Wasn't nobody happy?" Shirley Jones' biggest hit tells the story of a woman who decides to leave her unfaithful man. Ms. Jones likes songs that are in the form of a conversation between people and have a positive tone. Cynthia Biggs wrote most of the Jones Girls' songs; Ms. Jones, who co-wrote two songs on every Jones Girls album, said "We always wrote strong songs." Ms. Weston and Ms. Jones talked about their admiration for writer-producers such as Motown's pioneering Sylvia Moy ("It Takes Two," "My Cherie Amour"); Valerie Simpson ("Ain't no Mountain High Enough"), and the better-known Carole King. Ms. Weston hastened to add that while many Blues songs were written by men, and some do cast women as helpless and forlorn, many affirm the sheer joy of being alive; as an example, she quoted the lyric, "rock me baby like my back ain't got no bone." Ms. Weston and Ms. Jones agreed that the songs that endure are those that speak to universal themes and experiences.
Both musicians feel a responsibility to pass along their musical knowledge to younger performers, to encourage, tutor, and mentor them. Ms. Jones advises young singers to focus on lyrics, to feel the words of a song deeply and act them out. They talked about singing as a form of storytelling, and compared R&B to Country and Western music, because of the importance of narrative in both genres. While Shirley Jones is not a fan of Hip Hop, saying, "it makes me blush," Kim Weston likes it.
Ariel Fielding is a Fellow at the Folklife Festival working to increase online and community engagement. She is also a producer of culturally diverse performing arts and educational programming, with an emphasis on South Asian and Afrocentric work, and holds a M.Mus. in Ethnomusicology from the University of London.
Kim Weston performs with Motown legends the Funk Brothers on the Motor City stage on Monday, July 4, at noon and 4:25PM.
Shirley Jones performs on the Motor City Stage on  Monday, July 4, at noon and 4:25PM.
Kim Weston and Shirley Jones will appear once more on the Session Stage, for a conversation on Monday, July 4 at 2 p.m.