Our Shopping List for the Festival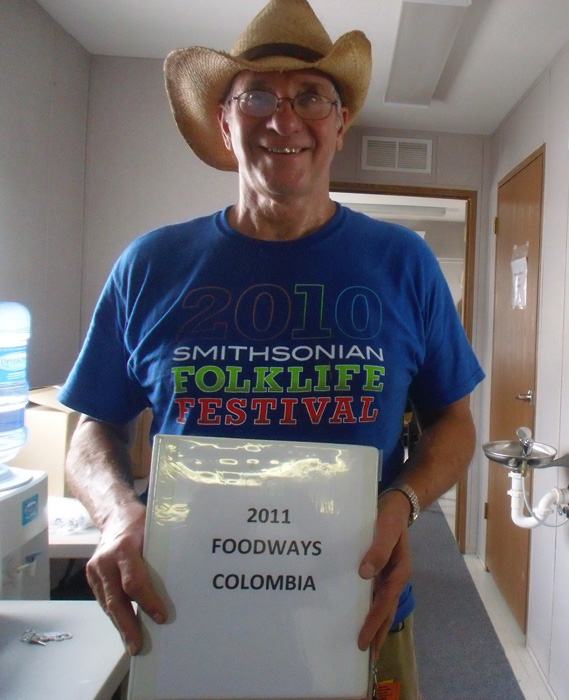 Food consumption and preparation is universal to the human experience, and foodways provide an excellent window into many cultures. At the Smithsonian Folklife Festival, food demonstrations teach about how a community's history and environment shape its food traditions. Talented cooks will share their knowledge, as well as explore visitors' connections to their own cultural traditions.
The Folklife Festival features two demonstration kitchens that are being put together, piece by piece, by our experienced and very organized Foodways Coordinator, Arnie Malin. Arnie sends this dispatch:
"At this time, I am compiling all of the recipes from the Colombia and Peace Corps programs for the demos. I break them down into a spreadsheet with lists of ingredients and the daily amounts needed for each recipe. When I have them all listed, I then further refine the spreadsheets into daily shopping lists. I am also researching what certain ingredients are, and where to purchase them.
Among the ingredients on my Colombia program shopping list are:
Beef flank
Pork shoulder
Sausage casing
Trout
Avocados
Cilantro
Coconut
Corn on the cob
Culantro
Green papayas
Habas (fava beans)
Habanero and serrano chilis
Plantains
Almidon de yucca (yuca flour)
Condensed milk
Vanilla extract
Achiote
Anise seed
Cinnamon sticks
Cumin
Nutmeg
Thyme
Our Festival team strives to collaborate across programs, bringing participants and themes into dialogue. On July 7 (11 to 11:45 a.m.), U.S. Representative Sam Farr, who served in the Peace Corps in Colombia from 1964 to 1966, will be participating in a foodways demonstration with Colombia program participants. Foodways demonstrations for Colombia will include mamona beef roast; Momposino cheese; corn and wheat arepas; Amazonian Tucupi broth; Momoposino fish; Llanero stew; Boyacense stew; and empanadas. Peace Corps foodways demonstrations will include: Zambian, Filipino, Georgian, Tongan, Kyrgyz, Jamaican, Kenyan, Guatemalan, Ukrainian, Ghananian, and Peruvian cooking, among many others. The Festival schedule provides times and locations for the foodways demonstrations.
Van Luong is the festival blogger for the 2011 Folklife Festival.