Jamacian Ackee and Saltfish: Peace Corp Recipes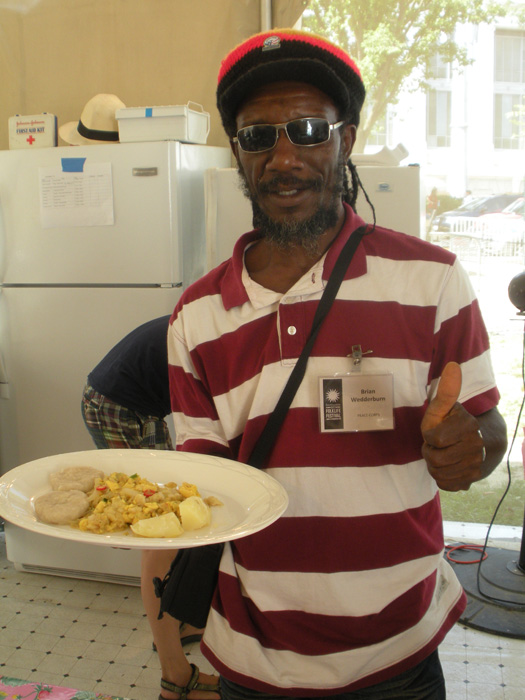 Demonstrated on the National Mall as a part of the 2011 Peace Corp Program, this recipe for Achee and Saltfish comes from Patrick Marti and Brian Wedderburn.
Ackee and Saltfish is the national dish of Jamaica, and ackee (a fruit) can be found canned at any international store.
Ingrediants: 
1 fillet saltfish
1 cup whole wheat flour
1 cup water
1 white potato
3 scallions
1/2 onion
1 clove garlic
1/2 Scotch bonnet pepper
1 can ackee
Salt and pepper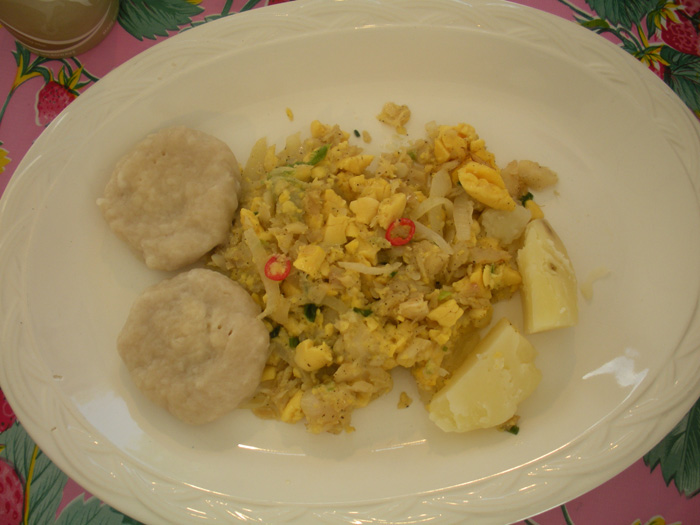 Directions:
Simmer salt fish for thirty minutes to make it less salty.
Make dough with flour and water and form into dumplings by rolling it into logs or flattened, pancake-like patties.
Peel and slice potato.
Boil potato and dumplings for 15 minutes.
Mince and saute scallions, onion, garlic, pepper, salt and pepper.
Add ackee and cook for a few minutes.
Arrange dumplings and ackee mix on plate and serve!
Meghan Hiscock is a program intern for the Peace Corp program at the 2011 Folklife Festival.