Ukrainian Borshch Soup: Peace Corp Recipes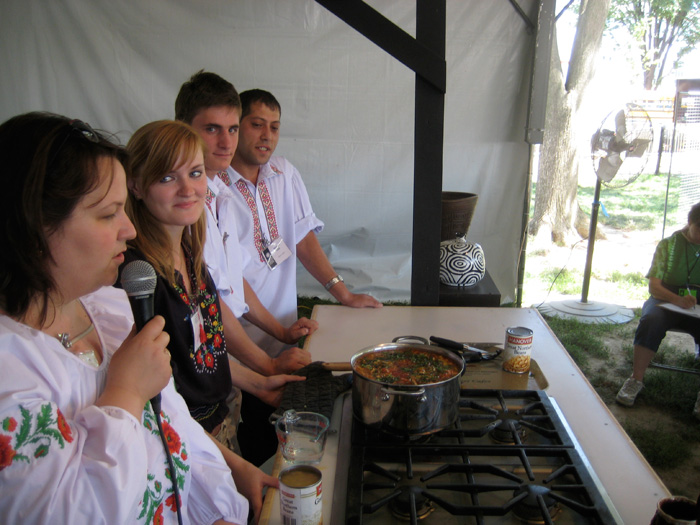 Recipe by Shelia Slemp
Ingredients: 

Stock:
2 ½ pounds of pork short ribs; pork bones with marrow
3 quarts of water
2-3 bay leaves
1 teaspoon of white vinegar (helps pull marrow from bones)
1 medium carrot, sliced
Salt and pepper to taste
Soup:
2 tablespoons of oil
1 large onion, diced
1 large carrot, peeled and grated
2 cups of cabbage, grated
1-2 medium-sized beets (if firm, boil them separately for 15-20 minutes and then grate them; save some of the water to add to your stock if you later need more water, or just bake them 45 minutes to an hour to retain vitamins).
4 medium potatoes, peeled and chopped
15-ounce can of beans such as Great Northern (optional)
2-3 tablespoons of tomato paste
4-5 garlic cloves
Salt and pepper
4-5 tablespoons of fresh parsley
4-5 tablespoons of fresh dill
Sour cream
Directions: 
Stock:
Split the bones to help get to the marrow (that's what makes the soup tasty).
In a large soup pot, add water and meat/bones and bring to a boil over high heat, periodically skimming off the foam as it rises to the top.
Add the remaining stock ingredients and reduce heat to low.
Simmer, partially covered, until the meat is tender, about 30-35 minutes.
When the stock is ready, remove all but the bones (e.g. meat, carrot, bay leaves) and set them aside.
Prepare Ingrediants:
In a saucepan, sauté onions in oil until they are translucent.
 Add carrots, sauté for 1-2 minutes.
Add the beets and cabbage, sauté another 3 minutes.
Add potatoes to the stockpot and bring the water back to a slow boil.
Then add the sautéed ingredients and tomato paste to the stockpot.
Simmer for another hour.
During the last 15 minutes:
Add parsley and dill to the pot, and season to taste with salt and pepper.
Cut the meat into bite-sized pieces and scrape all of the meat off the bones and add them to the stockpot.
Serve with a dollop of sour cream.
Evangeline Mee is a program intern for the Peace Corp program of the 2011 Folklife Festival.