Painting Malian Textiles on the Fourth of July
Bògòlanfini is a textile traditionally made by Bamana people in Mali, on cloth woven by men, painted by women and worn during times of transition. Today there are many types of bogolan that use designs and materials that depart from older forms.
Simbè Sankaré, Moussa Fofana, and Issa Téssougué traveled from Sévaré, Mali, in West Africa to Washington to share a version of the beautifully patterned, black and white cloth with Smithsonian Folklife Festival visitors, hoping to immerse them, for a moment, in the rich tradition of textile production in Mali. Simbè drew in festival visitors with a hearty "Welcome to Mali!" and ushered them over to a large painted cloth, where he explained some of the patterns in terms of history, proverbs, and myth. Moussa supervised children (and their parents!) as they knelt on the nearby platform and painted strips of yellow-dyed cotton with wooden brushes saturated in riverbed mud brought to Washington from Mali.
Click on the image below to view the gallery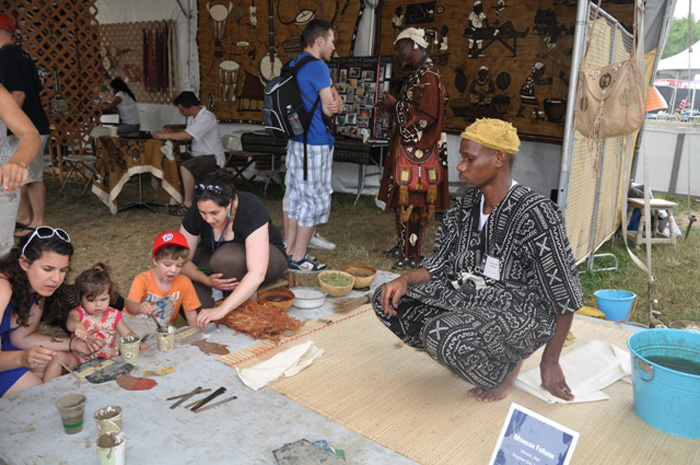 Moussa Fofana and Stephanie Beck Cohen help visitors create their own designs on cloth.

Photo by Suzanne Godby Ingalsbe

Issa Téssougué with returned Peace Corps volunteers who served in Mali.

Photo by Stephanie Beck Cohen

Painted textile depicting Peace Corps work in Mali.

Photo by Stephanie Beck Cohen
Though some visitors stuck to the newly learned concepts Simbè described, evoking their own history and stories in Malian patterns, others invented their own designs, unconsciously reinventing an art form also being reinvented today in Mali, where bogolan is painted in older patterns, but also in figurative and abstract styles as well, for local and tourist markets. When they finished, Moussa rinsed the cotton, revealing the dark black dye. He sent them over to Issa, a tailor, who sewed the newly painted strips onto each person's wrist, fashioning a souvenir of their visit to the Malian tent as he exchanged names and jokes with everyone.
Simbè manages Farafina Tigne, the only bead museum in Mali, and along with Moussa and Issa (who owns and runs a workshop called Danaya Couture, "Trust in Sewing"), produced bogolan bags for the Product (RED) campaign. The men have worked closely with the Peace Corps, and a large cloth depicting the work done in Mali by Peace Corps volunteers—from digging wells to building clinics to cooperating in business—hung along the back of the tent. The day was filled with Peace Corps volunteers who spent time in Mali over the past twenty years stopping by to connect with old friends. Future Peace Corps volunteers dropped in as well, including one who leaves for Bamako in October!
Stephanie Beck Cohen is a Ph.D. student in art history at Indiana University. She is among 12 students who assisted Festival artists as part of the Summer Institute in Museum Anthropology (SIMA), a program offered by the Department of Anthropology at the Smithsonian's National Museum of Natural History.