Burmese Caneball at the Olympics?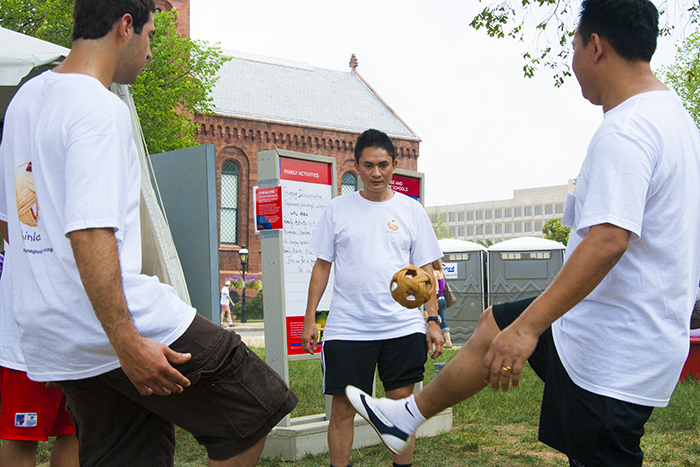 At yesterday's APA Program area, visitors got a chance to play chinlone, the Burmese cane-ball team sport. The ball is a little bigger than a softball but very light because it is hollow, with just interwoven rattan on the outside.
The most fascinating aspect of chinlone is that it is a very demanding six-person team sport, yet there are no losers. The focus is on passing the ball back and forth with feet and knees, and celebrating the beauty of the passes and the team spirit. One person goes into the middle, and a dance-like atmosphere is created, with the people in the circle interacting with and supporting the person in the center. The goal is to keep the ball from hitting the ground, but that is like saying that the goal of traveling across the United States by car is to have a meal in San Francisco. The beauty of behind-the-back kicks, the graceful forms, and the trance-like state of the players all contribute to riveting viewing, in addition to great exercise and great fun for participants of all ages.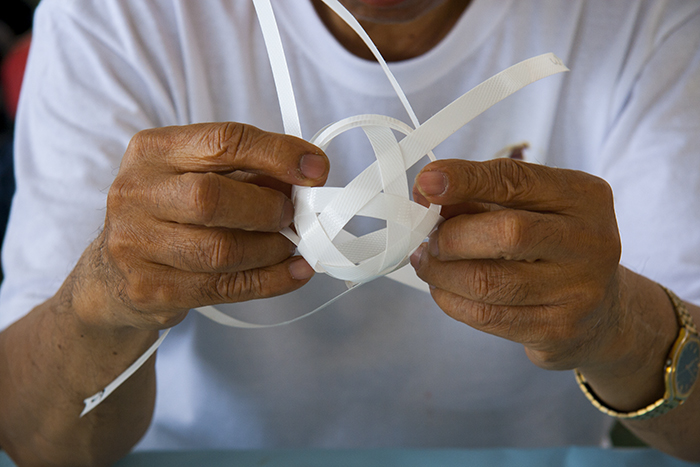 The world is focused these days on the World Cup of soccer taking place in South Africa, but after seeing and reading about chinlone, I cannot help but wonder why we do not celebrate this ancient Burmese sport and give it more visibility and popularity all over the globe. It is a wonderful activity for school children, whether inside or outside. It encourages team spirit without the need to trash an opponent, and allows for artistry and individual creativity within the confines of a group goal.
Why don't we push for chinlone as an Olympic sport?
Phil Tajitsu Nash is the curator of the Asian Pacific Americans program at the 2010 Folklife Festival.