The Language of Circus: Stories and Silence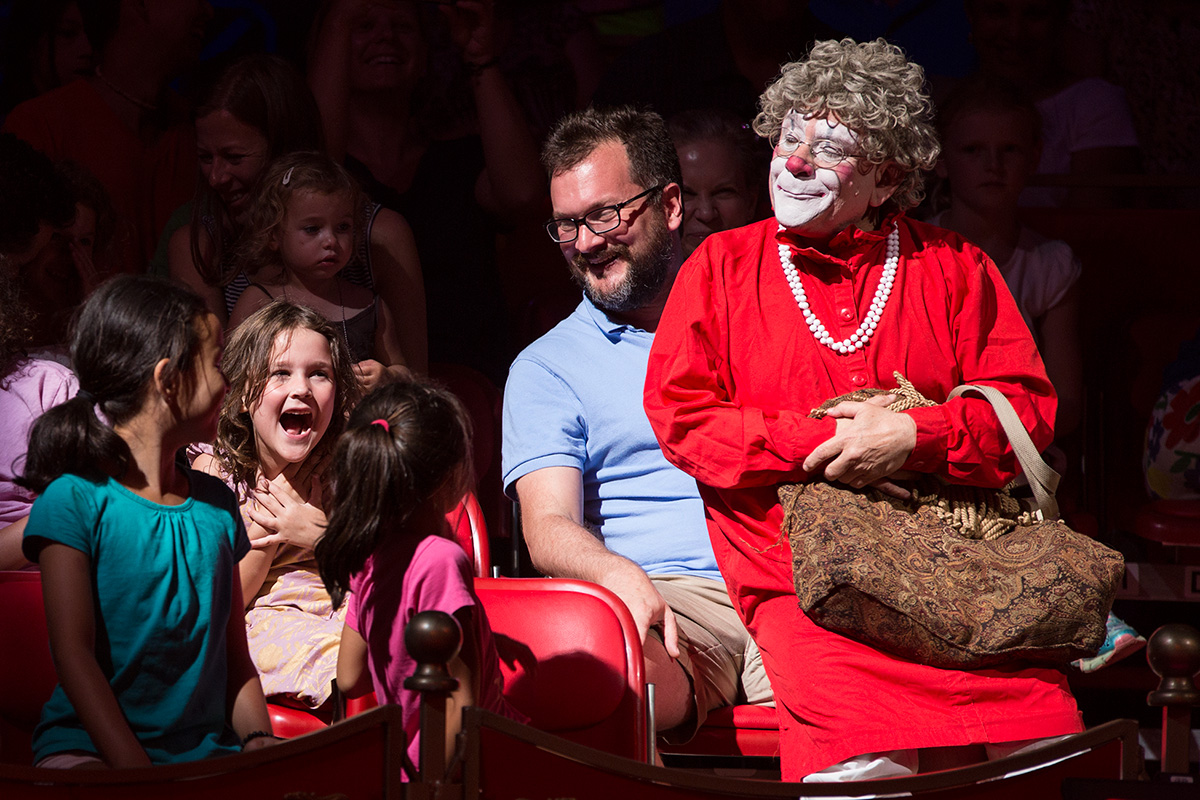 The history of circus, from ancient Egypt to present-day America, is rich and storied. Equally rich is the vocabulary that has been passed down across generations of performers. These words display a sense of humor that is as much characteristic of the circus as it is important to bridging the gap between performer and audience.
In a special session at the 2017 Folklife Festival, circus historians LaVahn Hoh and Dominique Jando gathered with internationally renowned clown Barry Lubin to discuss the vibrant and multifaceted language of circus.
"I think in every organization, many of them have their unique language, and the circus is no exception," Hoh began. "I'll give you an example: the person that sells concessions during a show, that goes around the aisles with their balloons or candy or popcorn, has been referred to as a 'candy butcher.' The story is that one of the concessionaires was very good at it, and he was a butcher in a previous job, and somehow that got put together."
The names of different parts of the circus grounds are often cleverly derived.
"Clown Alley is normally the name of the dressing area where clowns get together," Lubin explained. "Clowns have to powder their faces: you put on makeup, and then you have baby powder in a powder sock and you powder your face. Rather than get it all over stuff inside the dressing room, people would actually go out into the alley, and that might mean that originated from theater."
Jando added that there is an unspoken language of the circus: the language of tradition. Many of these traditions are carried on in Clown Alley.
"The first time I went behind the scenes, I was told that you do not walk into Clown Alley. You ask to come in, and you knock on a door." Hoh said. "If you don't, they'll attack you with that powder sock, which is usually a dirty old sock with that talcum powder in it, and you just don't want to get hit with that," he laughed.
The language of circus is not simply a common lingo or longstanding internal traditions, but it is also the language of humor. It's this that allows circus to connect with audiences across the globe. Lubin uses his "Grandma" clown character to convey comedy across the language barrier.
"I speak many, many languages, but mostly the language of silence, which allows me to work all over the world," Lubin shared. "One of the joys of being a clown, I believe, is finding a way to communicate with just your body and things of that nature and still get comedy across and be able to tell a story."
The language of circus, wordless or otherwise, embodies a sense of humor that has allowed it to connect audiences and performers worldwide and throughout time. An ongoing tradition, its vernacular language stands as testament to the rich history and engaging present and future of circus. 
Wilson Korges is a writer interning for the media department at the Center for Folklife and Cultural Heritage. He recently graduated from Iowa State University with a bachelor's of science in history.