Traditional Craft vs. Academia: Living the Folklife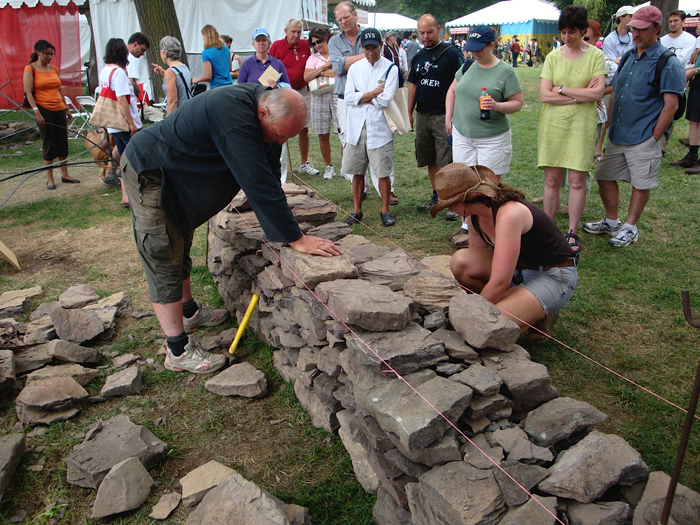 I was inching toward the end of graduate school when I started work as the supply coordinator for the 2009 Folklife Festival. At the same time, there was that pesky master's thesis hanging over my head. My life at that time was a to-do list that seemed to span the entire length of the legal pad that was forever in my hand, serving as my backup brain.
My thesis would not happen that summer, nor would it happen that fall or winter. Something else would delay me further, but I couldn't have anticipated it until after the first participants in the Wales Smithsonian Cymru program arrived.
That year, blacksmith and installation artist Angharad Pearce Jones and dry-stone waller and landscape historian Stuart Fry came to build their country's portion of the Festival site on the National Mall. They worked tirelessly in extreme conditions: heat, humidity, thunderstorms, and never-ending dust clouds. They were finely attuned to aesthetic details most would never notice, and they never missed a chance at a joke—in English or in Welsh. They were highly articulate about their work and happy to talk about it on practical or intellectual levels. I was in awe.
Angharad did a lot of welding on site. I never thought that as a woman I couldn't weld, but it had simply never occurred to me that I could. This was exciting to consider. Stuart held multiple graduate degrees and didn't start walling until he was forty years old. But wait, don't intellectuals hold intellectual jobs? Are they allowed to do manual labor for a living?!
I met them at the perfect moment in my life: with two years of graduate school under my belt, I was fed up with thinking. I had had enough of abstraction, of theories, of big academic-only words. I craved to be outdoors and out from under deadlines. I wanted to do anything but type. However, my coursework on sense of place and material culture made Stuart and Angharad's work so much more meaningful to me. They had isolated iconic pieces of the natural and built environment, transforming them into symbols of a culture deeply rooted in its landscape. They were channeling, recreating, and synthesizing tradition, temporarily transforming our National Mall to tell a story about their home and the importance of craft.
Much to my surprise, Stuart and Angharad took my interest seriously and invited me to live and work with them in Wales after the Festival. I had no idea what to expect, but I hopped on a plane in early October for the start of four months that would completely change my life.
From day one I knew I had been right to accept their invitation. I remember going about each day in Wales with my jaw hanging open in astonishment at the beauty that surrounded me, at the layers of history embedded in this landscape. The peace and quiet of the workday lulled me. The people charmed me. The never-ending cups of tea warmed me.
Moving eight tons of stone in a day or pounding glowing steel on an anvil for six hours straight was physically exhausting and mentally challenging, but the notion that the amount of effort I expended equaled concrete, measurable progress by day's end was both novel and supremely comforting.
There was also something reassuring about engaging in a craft that stretches back for millennia. I was often working to preserve a physical, functional part of Britain's history, and I felt a real sense of purpose and fulfillment for the first time in a long time.
I realized I no longer wanted simply to document and present craft as an academic—I wanted to do it. I had fallen in love with the countryside—our "office"—and with manual labor.
I was drawn to Angharad and Stuart because they occupy these gritty, and blue-collar spaces, but they also have the intellectual positioning and desire to step back from their work and analyze it as a scholar would—to place themselves ideologically in a broader world of labor, values, and aesthetics.
The satisfaction of manual labor was not something I took for granted once I had spent a few years glued to a laptop, typing away as I considered the lives of others from afar, setting them against a backdrop of concepts. That became so much more meaningful to me when I was able to ground it in practice for myself, to think more deeply about craft and tradition, and to experience the physical and cultural landscapes in which they exist.
Until Stuart and Angharad opened my eyes, I operated according to the unchallenged assumption that "smart" kids went through school, and more school, and then took a series of ever more illustrious jobs. This was how one progressed in life. Moreover, it was the progress of man across generations, each one more "successful" than the next. In 2010, as I struggled to wrap up my MA, I had the option to pursue a job at the Smithsonian or start a Ph.D. I didn't do either.
All of a sudden, I chose craft. My grandmother could not make sense of my decision, especially when I went to work on an organic farm a few years later. "You have an education," she said. "I worked so hard to get off the farm." I had the world at my fingertips, and this is what I chose?
In 2013, however, while in business for myself for the first time as a dry-stone waller, it became clear to me that I still craved intellectual challenges. I finally admitted to myself that I would never stop thinking critically, that I wanted that kind of dialogue in my life again.
I realized I had been thinking very one-dimensionally: I don't have to do one or the other, craft or academia. They are not mutually exclusive, and though I am constantly struggling with how I might do both, I know that I can. In fact, each endeavor enlightens and enhances the other. What I am doing today is something more than being a participant-observer. I feel fully engaged in each realm—an insider, committed to both craft and scholarship. In a way, I have come full-circle.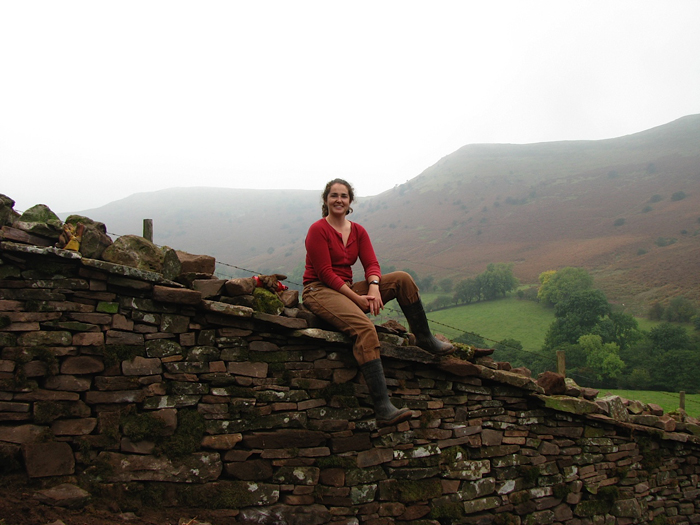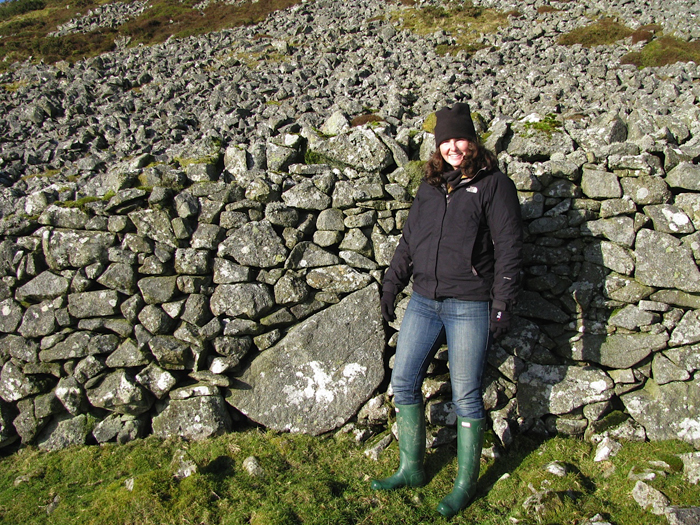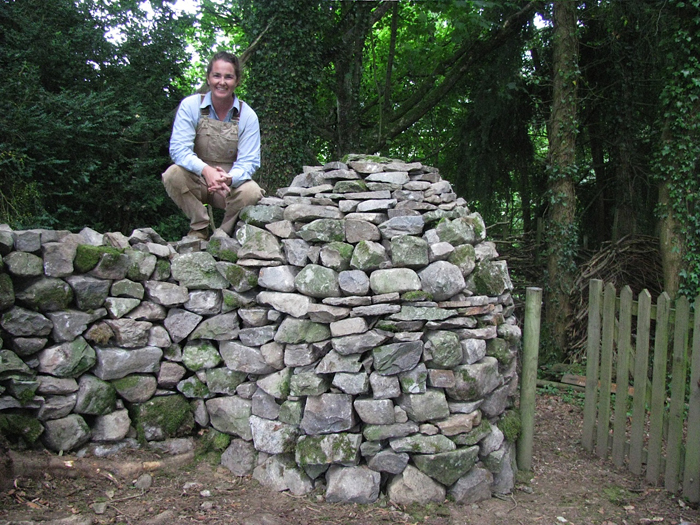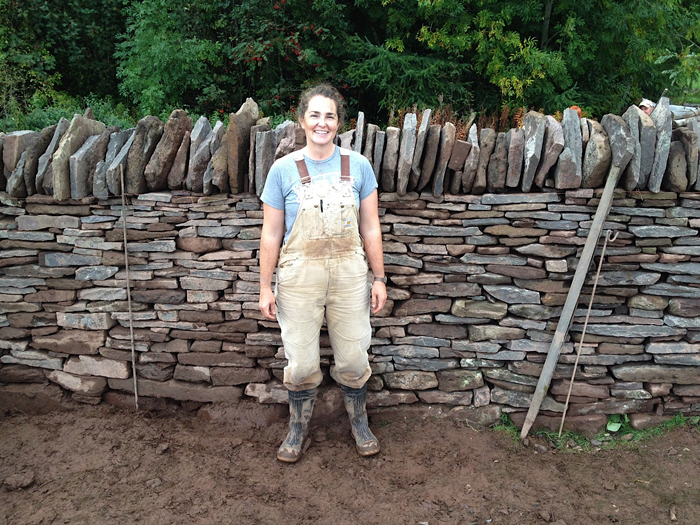 Whitney Brown worked as the supply coordinator for the 2009 Smithsonian Folklife Festival. She now operates her own stone masonry business based in South Carolina.